Young Blood
In a runoff, West Ashley elects its newest, youngest City Councilman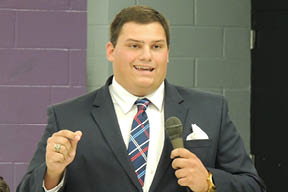 November 30, 2017
By Bill Davis | News Editorl
Once you get over the idea that the newly elected City Councilman for Dist. 10, Harry Griffin Jr., is only 22 years old, the next hurdle is that he isn't 23, yet.
"It's cool to be 22-year-old City Councilman, but it's even cooler winning as a 22-year-old candidate with no major endorsements, little to no name recognition, straight out of college," he said last week.
"I got out there and worked. I told people I would look out for them, and they believed me. And that was it: they believed me enough to give me this awesome opportunity," said Griffin.
Regardless of age or experience, Griffin flipped the tables last week on his opponent in a runoff election, Summer Massey. Massey had bested Griffin by four percentage points two weeks ago in the regular election.
But because Massey failed to reach the 50-percent mark, thanks to two-time incumbent Dean Riegel getting 17 percent of that vote, a runoff was required. Both Griffin and Massey had said that turnout was going to be key to whoever wins.
Griffin, apparently did a better job this time, winning by just under 100 votes, 446-347, and taking 56 percent of the overall vote.
Griffin last week praised his supporters and volunteers for the win. "We knew it was going to be tough to get people to vote on the Tuesday before Thanksgiving," he said. And now, when most people Griffin's age are getting their first real jobs, he will be representing residents living in the area bordered by I-526 to the east up to roughly the intersection with Bees Ferry Road where it jumps wide out to the entrance to the Grand Oaks subdivision.
The district is further bordered to the north by the Ashley River to just short of Magnolia Plantation.
Griffin said the battle for the district was won at the Drayton Hall Elementary polling place, where several precincts voted. "We had made up some ground, like in Hickory Farms, but mostly we'd been neck and neck," says Griffin.
"But at Drayton Hall Elementary, we won 170-71, with that being pretty much the difference," said Griffin, who changed up hand-shaking precincts the second go-round and visited every polling place the night of the runoff.
With the election behind him, Griffin said he will immerse himself further in council and district issues, to make sure there is no "transition" time after he takes his seat in late January.
First up for him will be revisiting all the neighborhoods in his district, to make sure he has a full view of what they need done. Then, he said, he will delve further into issues regarding drainage issues in the Church Creek Basin, one of his key campaign promises.
On the eve of the original election night, Riegel announced the federal government had promised millions in grant dollars to buy up homes prone to flooding in the area. Since that meeting, a report has been issued by city-hired consultants that maps out a $44 million-set5 of recommendations to deal with the issue.
Griffin knows that he will have to work with the other members of Council to meet his agenda, on this and the other side of the Ashley River. And he knows that some of those councilmen worked, advised, and financially aided other candidates during the election.
"Water under the bridge," said Griffin, promising his new colleagues a blank slate.
But it may not be that easy. Splits have opened between some of the West Ashley contingent on council and Mayor John Tecklenburg. This schism has grown to divide the West Ashley representatives on council on certain issues.
Newly-minted councilman Kevin Shealy is looking forward to working with Griffin. Shealy easily defeated incumbent Rodney Williams in a single ballot for the Dist. 2 seat.
Like Griffin's runoff opponent, Shealy benefited from support from seated councilmembers.  And like Griffin, Shealy sees drainage as the biggest issue to be dealt with, as his district abuts Dist. 10.