You Almost Had It!
West Ashey comedian Vince Fabra's new podcast showcases local businesses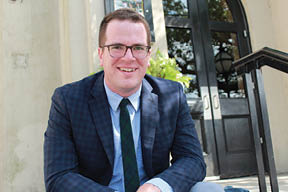 August 31, 2017
From Staff Reports
Vince Fabra, a local comedian and West Ashley resident, is no stranger to sharing insight and challenging those around him. As a professional speaker and comic, Fabra traveled to more than 300 cities and colleges over the past 7 years, to entertain, enlighten, and help clients improve their personal and professional lives. With a focus on curiosity and personal growth, he decided to put his microphone where is mouth is and started a new podcast focusing on seeking out and attempting new experiences.
You Almost Had It! is a weekly podcast with co-host and longtime friend Luke Smitherman. The pair select a new hobby, task or DIY project each week in an effort to learn, grow, and get the most out of life.
"This podcast has opened my eyes to so many things. I have especially enjoyed finding new experiences with the help of local businesses here in Charleston," says Fabra.
In the podcast's brief history, Fabra has visited Quickshot Shooting Range in West Ashley, retreated to Glowspa in Mount Pleasant for a sensory deprivation float tank experience, climbed the ropes course at Wild Blue Ropes on James Island and called upon Embroidery Boutique by the Charleston Angler for help with an embroidery project.
"I was so grateful that these local business owners were excited to help with our projects," he said. "These are all busy entrepreneurs, but each and every one was thrilled to take time out of their day to explain more about their trade and help me tackle a foreign task."
While a few businesses have been the focal point of their own episode, a number of others have received some recognition.
"We're generous with our 'shout outs'," jokes Fabra. "We don't need much of a reason to throw some love in the direction of our favorite local spots."
New episodes of You Almost Had It! are released every Monday. The co-hosting duo aims to continue with the theme of their podcast.
"I think listeners enjoy learning about the different worlds we visit each week," comments Fabra. "We hope to share something new and make them feel like they are a part of the hangout for an hour or so."
Fabra's  weekly podcast can be found on iTunes, Stitcher, Google Play and online at yahipodcast.com.