Without Regard to Sex, Race or Color
A photographic meditation on an embattled historic college and the state of the American Dream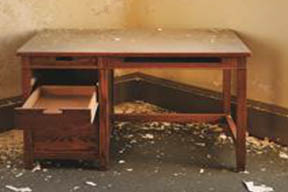 March 15, 2017
From Staff Reports
A large bell hangs in the clock tower overlooking the now quiet campus of Morris Brown College in Atlanta. Its inscription reads, in part, "Dedicated to the Education of Youth, Without Regard to Sex, Race or Color." Founded by African Americans in 1881, Morris Brown lost its accreditation to financial pressures and scandal in 2002. Today its campus is largely abandoned.
Photographer Andrew Feiler was granted unique access to Morris Brown's hauntingly silent campus. His artistic documentary-styled photography portrays a proud past, a challenging present and an uncertain future, not only for this one institution but for all of America's historically black colleges and universities (HBCUs).
Fabulon — Center for Art and Education is hosting a special reception featuring the phtoographs from 5-8 p.m. on Thursday, March 16. The exhibit opened on March 4 and will be on display throug the end of the month.
More broadly, this work offers a new way into the debate raging in our society about the essential role education has played as the foundation of the American dream. That tradition and legacy are now at risk. Many Americans cannot afford to go to college. Many Americans are being crushed by college debt. Many of these American dreams cannot be fully realized.
Feiler's photographs put into perspective Morris Brown College's great legacy and history; they give a glimpse of what once was and, more importantly, offer a vision of what can be. The photographs convey a sense of rough edges, of incompleteness, reminding me of an unpolished stone. They inspire me to want to make a difference, and I hope they will motivate others to be a part of our transformation," said Stanley Pritchett, former president of Morris Brown College.
A book of this work entitled Without Regard to Sex, Race or Color, Present, and Future of One Historically Black College was recently published by the University of Georgia Press. The publication includes 10 historical images, 60 contemporary images and essays by Robert E. James, Pellom McDaniels III, Amalia K. Amaki, and Loretta Parham. An exhibition featuring Feiler's photographs will be held at Fabulon Center for Art & Education, starting with an opening reception and book signing on Thursday, March 23, from 5-8 p.m. The works will stay up through the end of March.
"Feiler's photographs of the stilled campus of Morris Brown College conjure a haunting story that invites important dialogue on race, progress, and opportunity in America," said Brett Abbott, Keough family curator of photography and head of collections at the High Museum of Art.
Fabulon is located at 1017 Wappoo Road. For more information call 566-3383 or visit www.fabulonart.com