Wine Down Wednesdays Returns For Fall
Local Musician Mark JackSon plays Old Towne's Music Series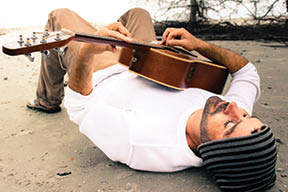 Local musician Mark Jackson will play the next Winedown Wednesday on Sept. 27.
September 21, 2017
From Staff Reports
Wine Down Wednesday returns to Old Towne Creek County Park this fall! The Charleston County Park and Recreation Commission invites the Lowcountry to view this beautiful future park and enjoy wine, live music and a food truck. The first event of the four-part fall series was held on Wednesday, Sept. 13. The next will be held Wednesday, Sept. 27 and feature live music from local singer/songwriter Mark Jackson and feature food from Pic-A-Nic Basket food truck.
At each Wine Down Wednesday event, guests will enjoy live music while exploring this hidden gem located in West Ashley. Admission fees also cover wine and a commemorative wine glass. Food trucks will be on site, with food available for purchase.
The series will return for three additional dates this fall, all with event hours of 5-7 p.m. The 2017 fall schedule will feature:
• Sept. 27: Mark Jackson and the Pic-A-Nic Basket food truck
• Oct. 11: Daniel Patrick and Café Tippeneaux
• Oct. 25: Mark Schuler and Damiano's Wood Fired Pizza
Advance tickets are available for $15. Day-of admission is $20 per person.
Old Towne Creek County Park is located in West Ashley on Old Towne Road, and is currently only open for special events and private rentals.
Formerly Ashem Farm, the property was home to Charleston preservationist Emily Ravenel Farrow and her St. Andrews Riding Academy. The 67-acre estate is dotted with open fields mixed among groves of live oaks.
Along with several other property holdings throughout the Lowcountry, Old Towne Creek County Park will one day become a county park available for regular use. Wine Down Wednesday is a great opportunity for the public to get a sneak peek of their future park.
For more information on Wine Down Wednesday, or to purchase advance tickets, visit CharlestonCountyParks.com/WDW. For more information, visit www.charlestoncountyparks.com or call (843) 795-4386.