While Mommy Is Out
West Ashley author helps children (and moms) adjust to babysitters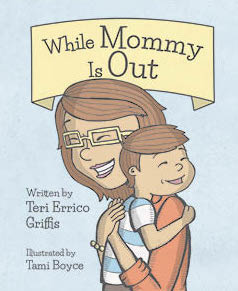 September 13, 2017
From Staff Reports
Every child has experienced the fear of a new babysitter arriving and wondering if mommy will return. Every mother has felt a tug at her heart when leaving an upset child. To ease those fears, local author and West Ashley mom Teri Errico Griffis wrote While Mommy is Out, a book designed to help children prepare for being left with a sitter or child care provider. The book was illustrated by Tami Boyce, a local graphic designer.
Griffis began her career in the early 2000s when she first interned with the writing staff of ABC soap opera All My Children in New York City. From there, she reported for local newspapers and magazines before being recruited by the global company, WWE, to help launch their first children's magazine. She has won a New England Press Association Award. Griffis moved to Charleston in 2012 and spent years volunteering to improve children's education through nonprofit work. Today she resides in West Ashley with her family where she writes and edits several publications.
Inspired by true events from Griffis' days as a nanny, the book follows Little One's day as Mommy announces she will be heading out and leaving Little One with a babysitter for the first time. Little One faces his biggest fear – making a new friend – while discovering Mommy does indeed return home ready for hugs.
While Mommy is Out is a narrative for children needing an introduction to the concept of a babysitter and why it's not a scary situation, as well as reassurance mommy will always come back home to her little one in the end.
"It is common for both parents to work, and very important for mothers to take care of themselves," says Griffis. "Children are experiencing babysitters more and more and it is natural for a child to be nervous, which makes it hard on everyone. This book really excites children because they will learn to see their time with a babysitter as a fun adventure with a new friend."
While Mommy Is Out is available for $15 at www.WhileMommyIsOut.com and at Mr. K's Used Books near Tanger Outlet.