What the Heck Happened to West Of
West Of Free Press is a better newspaper for a better West Ashley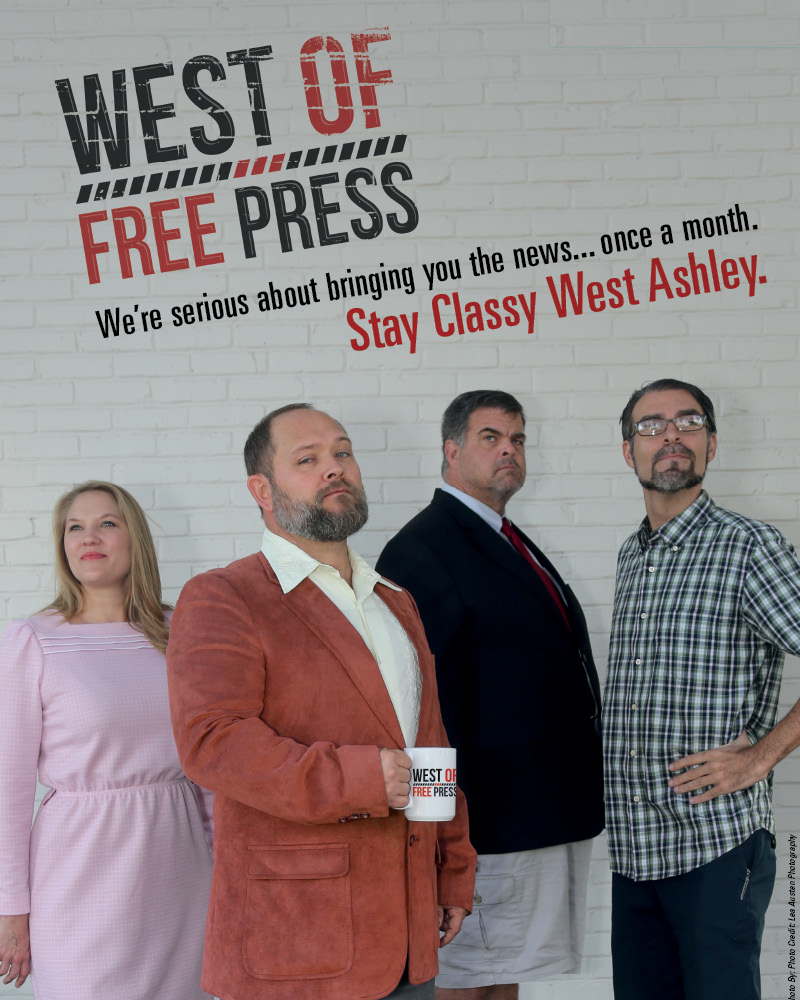 March 6, 2018
By Lorne Chambers | Editor & Publisher
If you went to your favorite West Ashley restaurant, shop, or grocery store sometime over the last two weeks and tried to grab the latest and greatest copy of West Of, you may have found an old copy dated Feb. 14 or even an empty rack looking back at you. You might have wondered, "What the heck happened to West Of?"
For the first time in 678 weeks West Of did not put out an issue.
Don't worry. To paraphrase the late American humorist and author Samuel Clemens, the reports of our death are greatly exaggerated.
As you can see, we have been busy. Really busy reinventing ourselves. This issue officially marks the beginning of a new chapter for West Of. Much like West Ashley itself in recent years, West Of is also receiving a much-needed shot in the arm. As revitalization efforts continue to sweep across our region, it's community newspaper has also undergone a revitalization.
Welcome to the West Of Free Press. There are plenty of things that are different about this incarnation of West Of. The most obviously being the look and feel of it. West Of Free Press is bigger … and better. It has more pages, a fresh design, and is printed on a better paper stock, so the photos look better and the ads pop more.
The other major change is the frequency that we're printing. After more than 13 years, West Of has changed from a weekly community newspaper format to more of a monthly newsmagazine. I realize this is a big change for both our readers and our advertisers. It's a big change for us too. But it's one we're excited about and hope you will be too after flipping through the rest of this issue. If not, at least you have a sturdier birdcage liner.
Thirteen years ago I left a job I loved and set out on a mission to bring West Ashley a newspaper that would serve as a voice for a part of town that was largely being neglected by the powers that be. Like the other "boroughs" of Charleston, I felt my part of town also deserved it's own newspaper. We deserved to celebrate our accomplishment and to discuss our challenges.
West Ashley has changed a lot since that first issue hit the racks in February 2005. As a community, we found our voice. Things are happening. Good things are happening for our part of town. Sure there are growing pains, but we're working towards a better West Ashley. And here at the West Of Free Press, we're working towards a better newspaper for West Ashley.
The media landscape has also changed dramatically in the 13 years since I first began publishing West Of, especially in the world of print media. And while niche newspapers such as ours have been a little more insulated from these changes, I won't say they haven't been felt. And this is certainly part of the reason we have made this change. We're small enough and flexible enough that we can adapt. But it is important to me that you, the reader, understand these changes and continues to support us on this new adventure.
From the business side of things, we wanted to give our advertisers a more affordable way to be in every issue. We wanted to offer them a way to have a bigger ad, one that looks better and works better. As you flip through this issue, you'll notice something. There are no corporate advertisements in here. No Wal-Mart or Target. No Pizza Hut or Dominoes. Our paper is 100 percent supported by local, mom and pop businesses. Businesses just like us. We have always been and remain an independent newspaper. Something that is increasingly rare these days.
With more places than ever to advertise, we wanted to offer a better option to those who have supported us over the years and those who will hopefully invest their hard-earned money with us in the future. I'm proud to say, we have many businesses in this issue who have been with us for more than a decade  — Ledford's Pest Control, Barks 'N' Bubbles, RPub, West Ashley Dental, Home Team BBQ, St. Andrew's Parks & Playground, St. Andrew's Family Fitness Plus!, Avondale Wine & Cheese, Low Country Vacuum & Sew, Triangle Char & Bar, TBonz, Charleston RiverDogs, Pearlz Little Oyster Bar, Clelia's Guitar Studio, Three Little Birds, and Gene's Haufbrau. It means the world to me that they continue to use this paper as a way to reach the more than 75,000 people who call West Ashley home.
Even more, it's important to me that you, the reader, continue to pick up our paper (or read it online if you must). While we've undergone some pretty serious changes, there are still plenty of things that haven't changed. While there are now more articles and new sections, you will still find quality reporting and good journalism. Better actually, because we will have more time to work on stories and investigate issues that are important to West Ashley.
Sure we're probably not breaking news once a month. But then again, we weren't necessarily breaking news once a week either. That was never our role. But what we can do now is offer more insightful and thoughtful articles about what is impacting our part of town. We can now take a more in-depth look at not only news issues, but also the arts and dining happenings in West Ashley.
Handling the bulk of the news writing will continue to be national and state newspaper award-winning journalist and West Ashley resident Bill Davis. He has been a reporter for three decades and has served as West Of's News Editor for the last five years. I will also handle a large amount of the writing duties for the West Of Free Press. I've been in the newspaper business for 20 years. Between us, that's a half of a century of reporting and writing.
Like Bill and myself, Art Director Brian Smith also lives in West Ashley. He has worked in the graphic design field since 1999 and has been with West Of for over a year now. He's the man behind the new West Of Free Press logo and layout. He also makes all of our advertisers happy with his knowledge and expertise in ad design.
Last but not least is my partner in business and in life, Lindsey Chambers. She has been with West Of since day one and serves as our advertising director while wearing several other hats for the company. She has worked for well over a decade helping local West Ashley businesses better reach their neighbors. After all, your neighbors are your best customers.
So while a lot has changed with your community newspaper, a lot has stayed the same. We may not be printed as frequently, but we will work hard to bring you a better publication. Because West Ashley deserves better.