West Ashley's Art Scene Evolves
Revitalization Efforts Lead to More Artistic and Cultural Events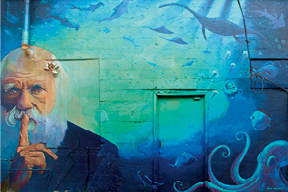 Sean William's mural behind the shops on Savannah Highway in Avondale is one of the most recognized pieces of West Ashley art.
May 26, 2016
By Bill Davis | News Editor
It looks like everyone wants to get into the act, as several local groups have joined with City Hall's recent effort to expand and strengthen arts programming in West Ashley.
For years, the Charleston arts' spotlight has been trained on the peninsula, with its galleries, music halls, and venerable theaters. But as West Ashley begins its second act via revitalization efforts, the time is ripe to fold more art into the mix.
Susan Irish is a former middle school arts teacher who now owns Fabulon – Center for Art and Education in West Ashley.
Irish has been using her gallery of late as a rallying point to unite artists from several walks of expression, and to divine the full array of artsy offerings already present in West Ashley.
Joining with more than 50 other artisans and interested parties in the West Ashley Cultural Arts network, Irish hopes to create a series of events to spur more artistic interest in this part of town.
Next up will be a "pop-up" art show in her parking lot on Saturday, June 11. At that event, Irish will begin circulating a survey to help find out how arts programming will figure into the ongoing revitalization of West Ashley.
Unlike the downtown arts scene, which can trend toward elitism and the highbrow, Irish said the initiative would focus on finding artistic outlets for everyone "where we serve the under-served," she said.
One of the enduring complaints has been that Spoleto Festival USA and its little-sister Piccolo Spoleto have largely ignored this side of the Ashley.
Last year, though, Piccolo expanded its offerings by partnering with a mini art festival in Avondale Pointe, masterminded by Lava Salon owner Geoff Richardson, who is also the founder of chART — Charleston Outdoor Art Initiative, which is responsible for the colorful murals behind the shops along Savannah Highway in the Avondale Point business district.
This year, the city partners once again with ChART-A-Rama, which will be held in the evenings June 7-9, and will feature art, poetry, photography, music, comedy, and dance.
Additionally, Spoleto will host a rebroadcast of the opera "Porgy and Bess" next Tuesday, May 31 at 7:30 p.m., free to the public at West Ashley High School. The actual opera sold out in minutes, and will be simulcast the night before into Marion Square downtown.
Mayor John Tecklenburg is an accomplished pianist who not only calls West Ashley home, but also made it clear in his successful campaign last year that he wanted to bring more arts events to West Ashley.
Tecklenburg's point man in expanding art in West Ashley is Office of Cultural Affairs director Scott Watson.
Watson said that one of the main aspects of West Ashley that intrigues him is what he referred to as a "more varied economic base" than is present downtown.
That means for Watson that city programming could bring arts to a wider range of people in West Ashley than live on the peninsula. For instance, instead of charging $30 for a ticket to the heralded opera, the city will provide a massive screen and sound system at the school's athletic fields, and will invite foldout chairs and families to stretch out and get cultured.
"Much of what we are doing in West Ashley (arts-wise), is learning by doing," said Watson, who last year realized that scheduling a reggae concert at the Magnolia Community Garden during the middle of the day when there was little parking and less shade, was a mistake.
Watson said part of the learning is finding out where and when more arts programming would be welcomed.
Art has already been finding odd spots to flourish in West Ashley. Jericho Advisors in Avondale has turned their space into an art gallery, calling it 4th Wall, and hosting an array of art events, from photography to performance art.
Currently "Neighbors," an exhibit by local photographer Dorian Warneck is on display at 4th Wall through the end of the month. Then Visual Alchemy: Afrofuturism, featuring the works of Cedric Umoja, Dogon Krigga, and Roni Nicole Henderson will open on June 8.
But not all of West Ashley's artistic movement is central to the Avondale neighborhood. Fabulon is located on Wappoo Road in a building that used to house a martial arts dojo. 5th Wall Productions (unrelated to 4th Wall), which puts on at least five full plays or musicals a year, has taken up residence in Citadel Mall in a former storefront.
5th Wall Productions' artistic director Blair Cadden said there are advantages to being in a mall, versus a traditional theater space. "We get in people who would never go downtown," she said. "Sometimes, they're out doing errands or mall-walking, and they'll circle back, check out our website, or walk by and stumble across our sign outside."
Fabulon's Irish: "We don't aspire to be as big as the downtown scene, but West Ashley wants some slice of the pie that's out there."