West Ashley Taps First Brewery
Charles Towne Fermentory aims to be a 'neighborhood brewery'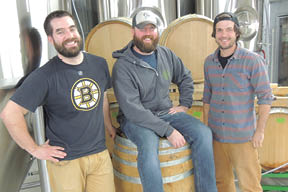 Charles Towne Fermentory's brewing team: Assistant Brewer Justin Slotnick, brewery assistant "Cornbread," and head brewer Adam Goodwin
March 2, 2017
By Lorne Chambers | Editor
Charleston's craft beer scene has exploded over the last year or two. Yet, despite West Ashley's size, there was still a noticeable void in the local beer scene in our part of town. That all changed as 2016 ticked down and Charles Towne Fermentory (CTF ) rolled up its garage doors in the popular Avondale Business District.
In the space that formerly housed the Charleston Shoe Company, CTF has quickly become a popular destination along an already bustling stretch of Savannah Highway. Co-owner and head brewery Adam Goodwin says he likes that the CTF is located in such a vibrant, walkable community and that it backs right up to the neighborhood because he sees the CTF as a neighborhood brewery.
Goodwin harkens back to a time when breweries serviced one town or one part of town. He sees the rebirth of America's craft brewery movement as a throwback to those days. "Charles Towne is a way to connect us to the locality and the history of where we are," says Goodwin. And while he loves to see people from all over Charleston and tourists stopping by, he primarily sees CTF as the brewery for the surrounding neighborhoods — Byrnes Downs, Moreland, Avondale, West Oak Forest, and South Windermere.
"The idea was not necessarily to bring in people from all over, but we wanted a location where there was already a lot of neighborhood activity," says Goodwin. "The cool thing is, as more breweries open, we're seeing more of this 'hyper-local' thing. That's who we're listening to and making sure they enjoy themselves and enjoying the beers they're getting here."
So far CTF has been an intricate part of the community. Besides being a place where locals can pop in for a beer or to fill a growler, it has also become a meeting place for the community. Local realtor Dan Lorentz, whose office is right next door to the brewery recently had an office drop in and brought folks over to the brewery afterwards. And last week Slow Foods Charleston held it annual potluck at the brewery.
"We designed the space to encourage conversation," says assistant brewer Justin Slotnick. "If you're going to have one beer after work, we want you to come in and have a beer with us." Before opening CTF, Goodwin and Slotnick worked together at Trillium Brewing Co. in Boston. Goodwin also worked at Tired Hands Brewing Co. (Philadelphia), and Cisco Brewers (Nantucket), before coming to Charleston a few years back. He encouraged Slotnick to move down and join him when he began planning to open CTF along with Chad Reynolds.
Reynolds is a licensed contractor who did much of the woodwork inside the taproom himself, including the bar, where there are currently five beers on tap — a Stout, a Pale Ale, an India Pale Ale (IPA), a Saison, and a Zwackelbier, a light-bodied German beer. While Reynolds is a local contractor by day, he is no stranger to the beer world. He also owns The Barrel, a popular beer bar on James Island that also recently obtained its brewing license.
Unlike other breweries and trends these days, Goodwin says he doesn't typically like to add a lot of unusual ingredients to his beers. "We try to generally stick with traditional ingredients and make them create the different flavors."
But he can't exactly be considered a traditionalist either. "If I had to put a name to it," says Goodwin. "I'd call it an 'American style' of brewing in that we aren't restricted by hundreds or thousands of years old traditions."  He says he takes a little bit from German brewing techniques, a little bit from Belgium styles, and a little bit of American ingenuity and experimentation. For example, CTF just purchased eight white wine barrels that are currently the start to its sour aging program. "We're focusing a lot on wild fermentations — wild yeast and bacteria in an effort to create unique and nuanced sour beers and farmhouse ales," says Goodwin.
As for the food side of CTF, there has so far been a rotating slate of guest chefs taking over the small kitchen inside the brewery, including Big Boned BBQ, which Goodwin says will be a regular at the brewery. There was also a pop-up brunch recently, where they offered a one-off cask of their standard Mudlark Stout, that was conditioned with maple syrup, vanilla bean, lactose, and coffee from local roasters Broom Wagon Coffee. Along with the wine barrels, the cask beers offer Goodwin and company a chance to branch off and try some different things beyond their usual offerings.
Charles Towne Fermentory is located at 809 Savannah Hwy. For more information, call 641-0431 or visit www.chsfermentory.com.