West Ashley Flashback: Wild, Wild West Ashley
Charleston Rodeo Club was once part of life in St. Andrew's Parish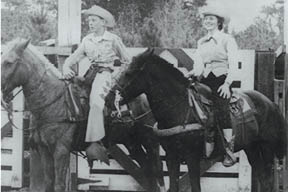 Frankie Flood on the Palomino he rode for calf roping competitions and Norma Flood on the Marsh Tacky she rode for barrel racing competitions in front of the chute at the Charleston Rodeo Club arena on Highway 61. (Photograph taken by Thomas Clifton and shared courtesy of Norma Flood Hancock)
September 21, 2017
By Donna Jacobs | Contributing Writer
Calf roping, barrel racing, bronc busting, and bull riding are exciting events at a rodeo. For most of us this evokes thoughts of the more western section of our country. However, rodeos were once part of the culture in St. Andrew's Parish West of the Ashley River.
In 1958, Ollie Flood Jr., J.E. Warren, and Ollie's brother Charles Flood formed the Charleston Rodeo Club. Previously, this group had functioned as the Boots and Saddle Horsemen's Club of Charleston County.
Charles Flood, President of this group, was interviewed for a March 1958 News & Courier article. In this article he expressed hope that the Boots and Saddle club would eventually have enough members to host a rodeo. The love of riding and roping was strong with these men and thus the dream of staging their own rodeo was an easy one to make come true. In two short years, the men had pulled together and built an arena on leased property near Pierpont on the Ashley.
In August of 1960 the Charleston Rodeo Club held a two-day grand opening at this new arena located eight miles from Charleston on Highway 61. In addition to bronc riding, bull riding, calf roping and barrel racing the grand opening included two unique events: wild cow milking, a team event for two men, and a trick horse act.
For Ollie Flood's daughter, Norma, these are very fond memories. Rodeo activities were a family affair. Her father was involved in all aspects of the club and was a calf roper in his own right; her mother, Amelia May Clifton Flood — known affectionately as Wedgie, sold tickets for the rodeos held at the new arena; Wedgie's brother Thomas S. Clifton photographed the competitions; Norma routinely competed in the barrel racing events on her Marsh Tacky; and her younger brother Frankie competed in calf roping on his Palomino.
At the annual show held after the grand opening of the new arena in November of 1960, Frankie Flood won first place in the calf roping division according to an article that ran under City News in the November 28, 1960 edition of Charleston Evening Post.
By June of 1965, the owners of the property had visions of development. The Bees Ferry Company submitted a plat for Section I of Drayton on the Ashley subdivision and the arena succumbed to the bulldozer.
Horse stories? Or stories about people and places in St. Andrew'sParish? Contact Donna Jacobs at westashleybook@gmail.com.