West Ashley Flashback — Showtime at the St. Andrew's
St. Andrew's Parish High School's Drama Club provided loads of entertainment for folks living on this side of the river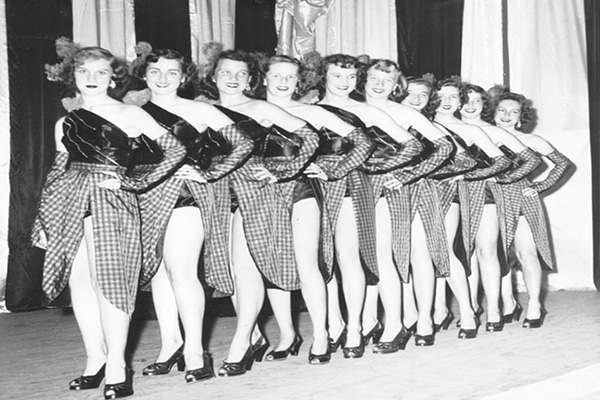 The chorus line from the 1954 production "Great Day" (Photograph courtesy of Barbara Blank Gilchrist)
April 4, 2018
By Donna Jacobs | Contributing Writer
The 1950 issue of "The Pelican", the yearbook for St. Andrew's Parish High School, featured a one page "Write-Up" about the Dramatic Club. "The Dramatic Club, the oldest active club in St. Andrew's Parish High School, had its origin the same year that the high school was formed, 1940."
The interesting fun fact about the Dramatic Club, its members were the force behind the annual musicals that are famous in St. Andrew's Parish High School lore. Several West Ashley Flashbacks have featured aspects of these musicals, but this short "Write-Up" provided insight from the students' perspective.
It also helps to timeline some of the shows and add another layer to this story that resonates among the alumni of the years that Mr. Hester mentored, coached, cajoled, and guided through the process of a musical production. One alumnus declared that St. Andrew's Parish High School had "Glee" before there was a "Glee".
The "Write-Up" continued as follows: "The first undertaking of the Club was a three-act comedy entitled 'Speed'. Since that time, with the exception of one one-act play, the club has concentrated on musicals. The latter type of entertainment was adopted as a result of the overwhelming success of the first musical, 'Blitzkreig'. 'Blitzkreig' was followed by other musicals such as 'Blitzkreig, Jr', 'Curtaintime', 'Showtime', 'Startime, 'On Stage' and 'On With The Show.'
The first of the musicals was presented on Dec. 12, 1941 and though it was scheduled for one night, its popularity warranted a second night. In recent years the shows have been slated for a three-night run.
It would be a great task to list the names of the performers who have taken part in these shows as the cast for each averages approximately 50 or over. Members of the club have been called upon on numerous occasions to provide entertainment not only for school affairs but for outside activities as well.
The most recent invitation coming from the Charleston Azalea Festival for a 'line of chorus girls' to participate in the entertainment to be offered during the program for the selection of Miss Charleston. The 1950 musical, 'High Time' is scheduled for production in May."
Seventy-one students are pictured on the page in the 1950 annual titled "Dramatics" and 45 students are listed on the page titled "Dramatics Club" – all from a student body just barely close to 300 for 5 grades. No big surprise that there are lots of fond memories and grand stories.
What are your memories of Mr. Hester and the musicals? Contact local author and historian Donna Jacobs at westashleybook@gmail.com.