West Ashley Flashback — Return To The Old Fort
Stories of Bunker Hill stir up questions, memories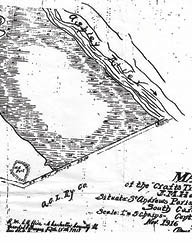 A section of the 1916 plat illustrating the "Old Fort" in the bend of the "Public Road" to the "New Bridge"
June 15, 2017
By Donna Jacobs | Contributing Writer
On the 1916 plat prepared by Rene Ravenel for Joe Harrison prior to Harrison's purchase of the land that is now Moreland, Moreland Shopping Center, Westwood, and Byrnes Downs there is an illustration of an "Old Fort" at the bend in the "Public Road" as it comes off the "New Bridge."
Not one story has emerged about this "Old Fort" despite numerous queries, especially of older men that grew up in St. Andrew's Parish. One memory was related, "I remember playing on Bunker Hill"; however, "Bunker Hill" was located on the south side of the "Public Road" — now known as Savannah Highway. One clue has emerged, though The Charleston Evening Post and The News and Courier did a Series of Civil War Editions. In the third series published June 15-16, 1962 there is a map of central Charleston County with forts notated.
Two Forts are noted and are positioned on either side of the Ashley River Bridge as it enters St. Andrew's Parish. Fort Barnes (Condition: Gone) is notated in roughly the same position as the illustration on the 1916 map. Fort Gladden (Condition: Gone) is noted on the south side of the bridge. This was probably what was referred to as "Bunker Hill".
One anecdotal addition: A Civil War buff told me that often trees grew from the tops of these "forts" because they were really more like dirt mounds with maybe a cannon placed on top. After the war, no one particularly maintained the mounds thus the tree growth. Notice the large oak tree near Hay Tire in the Moreland Shopping Center. It is approximately at the bend in Highway 17.
Could this be Fort Barnes?
St. Andrew's Parish memories or other Interesting stories about West Ashley's
history? Contact Donna Jacobs at westashleybook@gmail.com.