West Ashley Flashback
Checking Back In To The Evergreen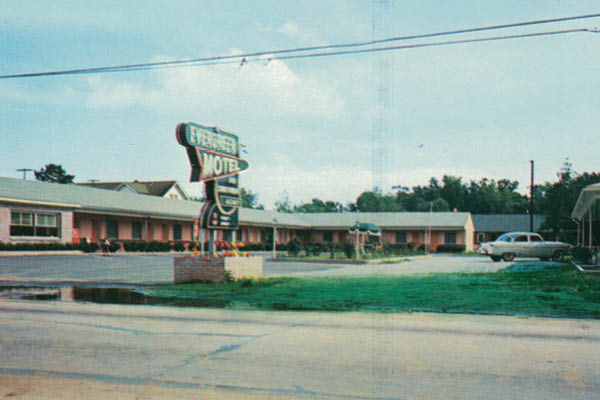 Postcard of The Evergreen Motel. The back of the postcard described the amenities at The Evergreen Motel. (courtesy of Charlie Smith)
May 3, 2017
By Donna Jacobs | Contributing Writer
Guest Homes. Motor Courts. Cabins. Motels. Tourism has always been a major element in the local economy. The list of establishments that decorated Savannah Highway is a testament to this fact. This was once the main route for tourists moving north/south.
One such establishment was The Evergreen Motel located at the corner of Dupont Road and Savannah Highway three-and-a-half miles from Charleston. Nicholas Gianaris opened The Evergreen Motel in June of 1955.
Fifteen air-conditioned rooms with private baths were located near a "splendid restaurant". Singles rates were $5 per night and doubles were $6-8. Later the motel would build additional rooms in response to the growing demand.
Several ads ran in both The Charleston Evening Post and The News and Courier announcing not only the formal opening but also offering congratulations to "Charleston's Newest Motor Court". These ads included: Fitts & Dandridge, the General Contractors, who used only the "best materials and workmanship" for this asset to "our progressive community"; Maxwell Bros & Hall who furnished the new motel; Drew's Blind and Awning who installed Levolor Venetian Blinds. Jansson's Carpet Shop; Bailey Bros.; and the Terry Sign Co. who built and erected the sign. The sign is of importance as it is a significant point of reference in subsequent years when Air Harbor was developed. Ever ad for home sales in Air Harbor referenced to turn at the sign for The Evergreen Motel.
Donna Jacobs is the author of "Byrnes Downs" and "West Ashley" and is continuing her research on the transition of St. Andrew's Parish from an agrarian community to the suburbs of today. She loves to listen to stories, contact her at westashleybook@gmail.com