West Ashley Flashback
When the West Ashley Greenway Was Still a Railroad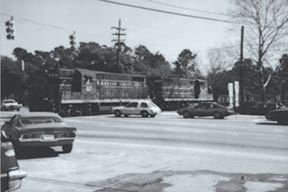 The last engine on the Atlantic Coastline track – approximate year is 1980. (Photography courtesy of Turky Burky)
March 8, 2017
By Donna Jacobs | Contributing Writer
The Charleston Savannah Railroad, The Atlantic Coast Line, and The West Ashley Greenway are all names that have a place in the history of a linear path from the Ashley River that heads south paralleling the road that has been known as Savannah Highway, The Public Road, and Highway 17 South.
There are many stories about this railroad spur that date back into the 1800s. However, in the more modern truck farming history of St. Andrew's Parish, this spur served to move crops from farms that bordered the tracks to other central delivery stations. Recently, the names and approximate locations of the covered sheds along this spur have been indentified and an effort has been initiated to place markers on these sites.
The names in order from the Ashley River south to beyond Interstate 526 junction with Highway 17 are:  Croghan, James Island, St. Andrews, Brennon, Horres, Farmfield, Voorhess, Hoff, Wappoo, Rhodes, DuPont Crossing, Dunnemann, Melvin, and Nosbig. As the farmland adjacent to the tracks transitioned to neighborhoods many more train stories were created. Stories of POWs being moved during WW II from the camp on the Ashley River to the various farms and serving as day laborers to pick vegetables; kids jumping on the slow moving train and riding to the Ashley River; waving to the conductor as the train passed by; playing in an old boxcar that was left for a while on Farmfield Road near the track are just a few examples of these anecdotes.
But when did the last engine roll down the Atlantic Coastline railroad track that has become the West Ashley Greenway? A seemingly simple question with the exact date still not identified. However, there is a picture showing this event on the section of the track that crossed Folly Road and Wesley Drive that Turky Burky captured on Polaroid.
Interesting stories about West Ashley's history? Contact Donna Jacobs at westashleybook@gmail.com.