West Ashley Council Races Focused On Church Creek Drainage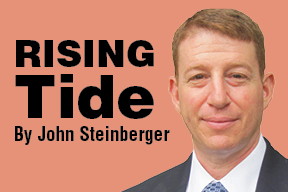 November 2, 2017
By John Steinberger | Contributing Writer
On Tuesday, November 7, voters go to the polls to determine the next Charleston City Council member for Districts 2 and 10 in West Ashley.  The winners will have a direct impact on how the city deals with flooding problems along the Church Creek Drainage Basin, which extends along Ashley River Road from Pierpont beyond Village Green and along Bees Ferry Road from Shadowmoss to Grande Oaks.  Residents in the 5000-acre basin have experienced flooding events four times since 2015.
In District 2, which includes neighborhoods on both sides of Glenn McConnell as well as those on the west side of Ashley River Road from Interstate 526 to Bees Ferry Road, incumbent Rodney Williams faces Kevin Shealy.  In District 10, which includes the neighborhoods on the east side of Ashley River Road as well as Shadowmoss, Village Green, Hickory Farms, Hickory Hill and part of Grande Oaks, incumbent Dean Riegel squares off against Harry Griffin and Summer Massey.
The five candidates all participated in a forum moderated by West Of editor Bill Davis at West Ashley High School.  The candidates all stated their intention to improve the drainage system in the Church Creek Basin.  Williams touted his status as Chairman of the City Council Public Works Committee, which is responsible for drainage.  Shealy noted that downtown Charleston has already received more than $400 Million on drainage improvement projects, and that he would work with the other West Ashley Councilmen to ensure West Ashley gets the funding needed to fix the system.
In district 10, Riegel pointed to his successful call for a 9-month moratorium on new permits along the basin, which was recently extended to December 31 by City Council.  Griffin cited that he actually walked along the entire perimeter of the basin and took pictures documenting the lack of preventive maintenance taking place.  Massey touted her experience involving infrastructure projects.
At a recent City Council meeting, Councilman William Dudley Gregory, who represents parts of James Island and downtown, suggested that the city needs to propose a $100 Million bond issue to address drainage improvements and maintenance, which would require $8 Million in annual spending.   He suggested possible revenue sources, including  increases in the annual stormwater fee, the accommodations tax on hotel visitors, the hospitality tax on food and beverages, property tax millage and a tax on cruise ship passengers.  West Ashley Councilmen Bill Moody and Keith Waring cited the need to perform periodic preventive maintenance on ditches, pipes and storm drains.
The Church Creek Drainage Basin Study began in August, with the engineering firm Weston & Sampson doing extensive field surveys, examining aerial photographs, conducting public meetings with homeowners throughout the basin, and analyzing computer software drainage models.  The notes from the public meetings are available at ChurchCreekBasinStudy.com.
Project manager Bob Horner, a James Island resident, declared at a Canterbury Woods public meeting, "The Church Creek basin is currently over-capacity."  Over-capacity means that the basin fills up during rain events more quickly than it can drain.  He said the report, which will be submitted to City Council in early November, will list recommendations including diverting stormwater runoff, adding new drainage channels, installing tidal surge gates, improving maintenance, and installing pumping stations.  Price estimates for each recommended improvement will be included in the study.
All City of Charleston voting precincts will be open Nov. 7 to decide on a $20 million bond issue to install affordable housing units (registered voters may request absentee ballots by calling the Charleston County Election Office at 843-744-8683).   If I lived in District 2 or District 10, I would vote for the candidate most committed to solving this long-standing problem.  Why has the problem lingered for so long without being addressed?  Drainage maintenance is one of the core services of government, and it has been neglected for far too long.
John Steinberger is the editor-in-chief of LowcountrySource.com. To contact him, email John@LowcountrySource.com.