West Ashley Bank Robber Charged With More Crimes
20-year-old man charged with armed robbery, car theft, and robbing Wells Fargo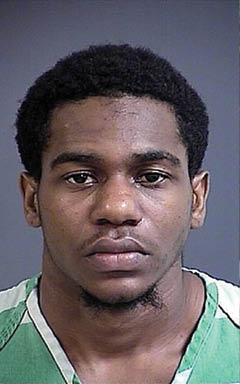 May 11, 2017
From Police Reports
A 20-year-old Hollywood man already charged with robbing a West Ashley bank last week, now faces additional armed robbery charges.
At about 1 a.m. on May 1, a man was robbed in the parking lot of his apartment complex on Bonieta Harrold Drive. The victim was unloading items from his vehicle when he was approached by a man armed with a handgun. The suspect took the victim's wallet and car.
About 16 hours later, an armed gunman walked in to the Check into Cash at 2049 Savannah Hwy. and demanded cash from the clerk. After receiving the cash, the suspect fled the scene.
The next morning at about 10:30 a.m., a man armed with a handgun entered the Wells Fargo Bank at 828 Orleans Road and demanded money from a teller. He then left the scene in a car.
After a brief vehicular pursuit by Charleston Police officers and Charleston County Sheriff's deputies, the suspect fled out of the vehicle on Sanders Road. He was then taken into custody.
As a result of the on-going investigation, detectives determined the vehicle the suspect was driving was the vehicle stolen at gunpoint on Bonieta Harrold Drive. Video surveillance also linked the suspect to the armed robbery at 2049 Savannah Hwy.
Timothy Tyrell Moody, 20, of Mauss Hill Road, is charged with three counts of armed robbery and three counts of possession of a firearm during the commission of a violent crime.