Wes Ashley Flashback
Remembering the "Most Talkative Girl" From the Class of 1943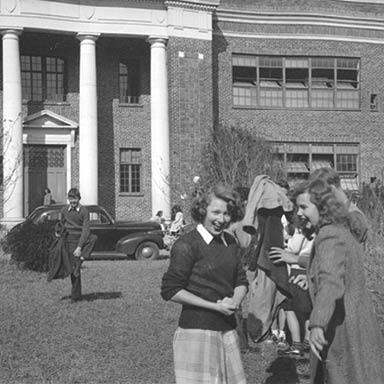 Patty O'Neill DeTreville, Betty McKenzie O'Neill's daughter, strolled by the display of old photographs at the West Ashley Farmer's Market last fall. This smiling face caught her attention and she exclaimed: "That's my mother, Betty McKenzie O'Neill!" (Photograph courtesy of Ina Bootle.)
February 9, 2017
By Donna Jacobs | Contributing Writer
Elizabeth Ann McKenzie, known to her friends and family as Betty, smiled at Luther Bootle in front of St. Andrew's Parish High School on a sunny day during her senior year — 1942/1943.
Luther Bootle was the photographer for the school's yearbook The Pelican. Maybe he yelled at Betty to smile so he could capture another candid photo. Bootle took more than 300 photographs that year for The Pelican, some of them formal, most of them candid. The one published here did not make the cut.
Betty's journey to St. Andrew's Parish was not one that made her smile. Elizabeth Ann McKenzie was born in Charleston in August 1926 and her family lived on Cannon Street. She was baptized in St. Patrick's Church and attended Memminger. She was happy with her life on the peninsula.
Her father, Frederick McKenzie, on the other hand was feeling a little cramped downtown and decided to purchase a home with about an acre of land on Gardenia Road in Pinecrest, west of the Ashley River. He longed for space and the land to grow flowers and vegetables, one of his passions. The property also came with an out building where he could delve into his woodworking.
The family was uprooted and moved across the Ashley River. Betty was not smiling. She was very active at many levels at Memminger, especially in basketball and did not want to leave the school and her friends so close to her senior year. But following the adage: "When life gives you lemons, make lemonade" she immersed herself immediately into the world of St. Andrew's Parish High School as witnessed by The Pelican of 1942.
Betty McKenzie's name is listed with the Dramatic Club, the Blue and Gold, the Girl Reserves, and the Noms de Plume.
The Pelican of 1943 is filled with references to Betty McKenzie. She was a senior that year, senior class was the 11th grade during this era. She lettered in basketball, was co-captain of the team coached by Mrs. Walter L. Shaffer, and was very proud of the fact that her St. Andrew's Team beat Memminger.
Betty kept a clipping of the event tucked in a book all of her life. She was a member of the Social Cabinet, Dramatic Club, Girls Drill, and Block A.
In the last Will and Testament of the Class of 1943, Article XXI stated: "I, Betty McKenzie, will my quiet ways to Mildred McCants." The paradox is she was selected as the "Most Talkative Girl." Her daughter, Patty O'Neill DeTreville, claimed there wasn't a quiet bone in her body.
Patty O'Neill DeTreville and I met on a sunny day to talk about her mom. What a treasure to learn all these details. We glanced through my copy of the 1943 year book. I learned that Ouida L. Waters, the secretary of the class and "Most Popular Girl" was Betty's best friend. Hubert Peale, President of the junior class was her boyfriend, and also played basketball. And she never missed a reunion of her high school class until her death. Like so many alumni of St. Andrew's Parish High School her memories and affection for the school ran long and deep. Betty McKenzie O'Neill was very proud to be "a Rock".
Do you recognize faces in the above photo? Contact Donna Jacobs at westashleybook@gmail.com.