Welcome to West Laughly
West Ashley has become a cavalcade of comedy cut-ups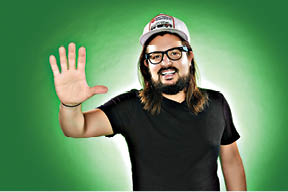 Former Charleston funny man Dusty Slay returns to headline a show at Creekside Kitchen & Brewhouse along with local comedians Jason Groce and Shawna Jarrett
August 23, 2017
By Bill Davis | News Editor
Be careful where you put your hand in West Ashley: standup comedy is spreading here, and in places you'd never expect.
Over the next 10 days, a multitude of shows will … show how far the comedy scene has come this side of the river. The first will be the return of former Charlestonian Dusty Slay for a show at Creekside Kitchen and Brewhouse on Savannah Highway this Friday at 10 p.m.
The second will be a roast of local comedian Jeremy McLellan, who lived off Carriage Lane for years before marriage and a new house took him to North Charleston. That show will take place the following Thursday, Aug. 31 at 8 p.m. at the Tin Roof on St. Andrews Boulevard.
Slay has gone on to become a touring national comedian, and making appearances on NBC's "Last Comic Standing" and national radio comedy shows.
McLellan, a former cover boy in this publication, has become an international-touring comedian, recently completing a sold-out tour of Lahore and Islamabad, Pakistan.
McLellan was just named one of the "New Faces of Comedy" by the influential "Just for Laughs International Comedy Festival in Montreal" last month.
But "show business" in West Ashley wasn't always so rosy. It was a dead, humorless part of the Lowcountry until 2009 when Jason Groce first started what has endured to this day as "TROM: Tin Roof Open Mic."
In September the monthly TROM show, which started out as "Little Caesars' Palace" until a cease-and-desist letter from the pizza giant, will celebrate its eighth birthday.
Why did Tin Roof become such fertile ground for funny?
"I dunno," responds Groce, a longtime bartender at Gene's Haufbrau. "TROM has survived for so long because of the perfect setup and attitude Tin Roof has for unique, laid-back, offbeat performances on a Sunday night, while fulfilling a still much-needed spot to act as an anchor for comedy in the West Ashley area."
Tin Roof has also been a destination for other comedians and shows, including national touring comedians and smaller shows produced by outfits like local Girly Bits Comedy.
Slay, calling from the road on his way to Indianapolis from his current home in Nashville, recalled his favorite moment at TROM, where he cut some his comedy teeth, being the first roast local comedians put together to zing fellow comedian David "Apples" Appleton and the crazy after-party that followed.
"Of course, I was still drinking then!" snorts Slay, who used to ride his bicycle through West Ashley to get to the Planet Fitness in Citadel Mall where he learned how to get "TV thin."
Sobered up and married, Slay says he loves coming back to Charleston. "It's one of my favorite places in the world," he says, adding that sometimes it feels more like "home" than where he grew up in Alabama.
Slay says he and his wife will be driving his Volvo with 260,000 miles on it to Charleston to meet up with her dad for a few days early of catching up and sightseeing.
Keith Dee, a local IT manager and aspiring comedian, booked the Creekside show after one of its sister restaurants tore down its stage. Groce and local comedienne and West Ashley resident Shawna Jarrett will also be on the bill.
Jarrett, a local public relations guru, has been a busy bee in the area's comedy scene. On top of booking the McLellan roast next Thursday, she also hosts a monthly open mic at Frothy Beard Brewing Company on Sam Rittenberg Boulevard.
"I love this area, and not ironically," says Jarrett, who recently hosted a roast of West Ashley at Tin Roof. "We have a wonderful food and bev scene: everything in the Avondale area, Swig & Swine, Early Bird, Red Orchid."
"West Ashley is unique in the greater Charleston area because unlike Mt. Pleasant, Summerville, etc., it's still part of the City of Charleston," says Jarrett. "But it is not what anyone pictures when you say you live in Charleston. This ain't Rainbow Row, unless that's what you call that colorful little enclave of title loan and check cashing shops on Savannah Highway at Wappoo."
Jarrett says that West Ashley "ain't THAT fancy, and we're definitely weird. We haven't scorched the earth here. It's still West Ashley, and we can laugh at ourselves a little as we grow."
Perry Freeman, who runs the Charleston Sports Pub at the corner of Orange Grove Road and Old Town Road, has gone in big on stand-up this year.
At the beginning of summer, at the behest of a former comedian and shift manager, Freeman partnered with the Comedy Zone chain and began bringing touring regional comics once a month to West Ashley's home for Totchos — tater tots gussied up like nachos.
Freeman says that while his restaurant is still most proud of its food, he also wanted to try beat other restaurateurs "to the punch" by bringing in seasoned professionals and giving local up-and-comers, like West Ashley's Sarah Napier, a chance to open and get valuable stage time.
"I felt like there was a market out there," says Freeman. "People like to go places where stuff is going on … It's not like we reinvented the wheel." Their comedy series will pick up again after football season in February.
In fact, Freeman could have been inspired by the monthly comedy show hosted a couple of hundred yards down the street at The Original Ms. Rose's Fine Food and Cocktails. The "Ms. Rose's Comedy Hour" was started in 2013 by its former bartender, Moey Conway, who has since left to follow her dreams in Hollywood.
Even though the show has passed into local comedian Drew Howard's hands, it's retained its basic premise: food, drink, a couple of local openers, and then a touring headliner.
Howard says that the next show, this Saturday, Aug. 26 at 8 p.m., will feature Shaun Jones, who has his own comedy special and has appeared alongside Jamie Foxx in several movies. Last year, Jones played a sold-out show at d.d. Pecker's Wing Shack on Savannah Highway. Reservations are filling up for his next West Ashley show, especially for dinner before the show, says Howard, so if you want to go now is the time to get on the phone.