WAHS Turmoil Bad For The Community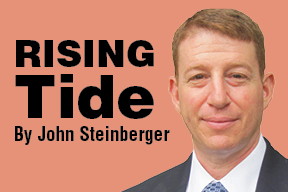 May 17, 2017
By John Steinberger | Contributing Writer
The local high school should be the lifeblood of a community. The recent decision by Charleston County School District Superintendent Gerrita Postlewait to re-assign West Ashley High School (WAHS) Principal Lee Runyon has the community in turmoil. A petition to retain Runyon can be found at www.change.org/p/ccsd-superintendent-and-board-of-trustees-mr-runyon-stay-at-west-ashley-high-school-as-principal.
The reputation of our schools has a big impact on whether families relocating to the Charleston area choose to buy homes in West Ashley. A former Charleston radio personality moved to the area in advance of her family. She loved the West Ashley neighborhoods and the centralized location, but when she got to talking to parents about the quality of schools beyond the elementary level, she looked elsewhere. Mt. Pleasant was her first choice, but the home prices there drove her to buy a home in Summerville. The Dorchester School District 2 schools are universally respected.
West Ashley has a population of 72,000, roughly the same as Mt. Pleasant. In fact, if West Ashley were a town, it would be the forth largest in South Carolina. Mt. Pleasant's Wando High School has nearly 4,000 students, while WAHS has about 1,700 students. About half of West Ashley families send their middle and high school students to magnet schools, charter schools, and private schools.
Runyon, about to complete his third year at WAHS, has done a lot to improve the school's reputation. Here's what one parent wrote on the petition form: "Principal Lee Runyon is one of the reasons we chose to send our daughter to WAHS. He is dedicated and involved with student body activities. This action (to re-assign Runyon) will certainly have a negative impact on the community." Another parent wrote, "Mr. Runyon is the perfect fit for WAHS. So many positive changes have occurred under his leadership."
The media coverage on the school has been mainly confined to a cafeteria fight filmed and posted on social media. There has been little media interest (aside from West Of) in the many good things happening at WAHS. The school has won many awards in robotics, engineering, the Navy Junior ROTC air rifle team, culinary arts, and marketing. The school has frequent programs for parents on career and college opportunities.
I attended a WAHS pep rally at the Magwood Chic-fil-A in the fall. Runyon spoke to hundreds of parents and students standing on top of a school bus alongside student leaders. The event featured the school's talented band, football team, cheerleaders, dance squad and the Junior ROTC color guard. The sense of school spirit was very clear.
Runyon was among the 13 school principals slated for re-assignment by Postlewait, apparently based on a new teacher evaluation system that wasn't revealed to schools until April. Postlewait made the flippant remark that being the Superintendent is a lot like being a bank CEO shuffling around branch managers. She and several school board members have also said they are "cross-training" principals.
The leadership of a school principal is the biggest factor in a school's success or failure. Continuity and a "buy-in" by students, parents and the community are essential to a school's well-being. Superintendent Postlewait and Nancy McGinley before her have brought in a number of principals with no ties to the community, which usually doesn't work out well.
Drayton Hall Elementary School teacher Patrick Hayes, director of the public school advocacy group EdFirstSC, organized a rally coinciding with the May 8 school board meeting at the 75 Calhoun St. district headquarters. Most of the more than 200 people in attendance were WAHS students, parents, and teachers clad in WAHS Wildcat purple. Many carried handmade signs with messages including "Team Runyon" and "Keep Runyon".
I encourage WAHS parents and community members to keep the heat on the Superintendent and the school board members to back down on the decision to re-assign Runyon. The school is clearly headed in the right direction and deserves sound leadership and solid community support.
John Steinberger is the editor-in-chief of LowcountrySource.com. To contact him, email John@LowcountrySource.com.