Vote West Ashley
Five City Council Candidates Vying for 2 West Ashley Seats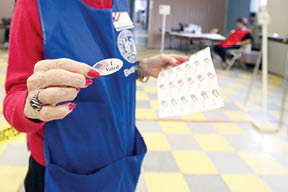 November 2, 2017
By Bill Davis | News Editorl
Last week's League of Women's Voters candidate forum may have been a first introduction for many voters, but the overriding question of potential City councilmen soon became: Who will you work for?
More than a hundred West Ashleyians gathered Wednesday at the cafeteria of West Ashley High School to listen to what candidates for two City Council districts, the 10th and 2nd had to say
Dist. 10 incumbent Dean Riegel debated issues with newcomers Summer Massey and Harry Griffin. Dist. 2 incumbent Rodney Williams took on Kevin Shealy.
The League supplied questions regarding their qualifications, traffic and flooding solutions, and how they would recast regional planning. Attendees also submitted questions, mostly about flooding, with a few gotcha-style questions snuck into the stack.
However, several darker themes soon emerged between the lines.
In the Dist. 2 race, Shealy, an insurance agency owner, jabbed at Williams in his introductory comments that he would be an "ethical" representative on council.
His comment was probably in reference to enduring criticism that Williams had become too chummy with one of his clients, shepherding a meeting with city officials that could bring that company a lucrative municipal contract.
Williams had already self-reported the incident to the State Ethics Commission and had been summarily cleared of possible violations.
Later, in a rebuttal, Williams fired back at Shealy's assay, expressing his sincere resentment of what he saw as a smear campaign. He also criticized Shealy for accepting campaign donations and campaign advice from two of his seated colleagues on council.
Riegel echoed that criticism, alleging that it was inappropriate for West Ashley City Councilmen Bill Moody and Keith Waring to have gone beyond endorsing a candidate against a seated incumbent to raising money for them and hosting fundraisers for other candidates.
The underlying issue Williams and Riegel were accusing their competitors of was that they would be in the thrall of Moody and Waring, and not focused on what's best for the city at large.
Shealy countered, claiming that Williams' candidacy was funded allegedly by "more than 90 percent" of contributions coming from outside his district.
Williams acknowledged that the lion's share of his campaign's received contributions were from outside of his district, and that he was "grateful" for every cent given to him by his constituents. But, Williams said, the reality of modern politicking means that all candidates in all races must cast wider money nets.
As such, it seems the ongoing rift between Moody-Waring and Mayor John Tecklenburg inside Council chambers had extended to the high school's cafeteria. Williams strongly threw his support behind the mayor.
If Williams and Riegel return to council after the November election, the rift between them and Moody and Waring may open into a chasm.
Additionally, there may be increased "horse-trading" of votes where West Ashley representatives on council will be able to barter their votes on peninsular issue votes for more favorable support of projects on this side of the Ashley River.
The next batch of fireworks were supplied later in the forum when Griffin, a recent graduate of The Citadel, complained that he couldn't believe that houses in the Church Creek Basin "flooded three, four, five, 10 times" before City Council took action.
Griffins' comment got the biggest round of applause from the audience, despite having been warned not to clap until the very end of the event.
Earlier, Riegel seemed to take responsibility for an announcement that the federal government will pitch in a nearly $2.5 million grant to buyout oft-flooded homes located in the Bridge Pointe Neighborhood at the bottom of the basin.
The federal grant will cover roughly 75 percent of the buyout costs, with the remaining funds needing to come from the city.
Riegel took two different rebuttal sessions to refute Griffin's criticism, saying that he was "offended," pointing out the several improvements that occurred during his tenure.
Massey distinguished herself with what may have been the most complete answer to public transportation problems.
She called for all future transportation projects to include a "multi-modal" approach, that includes pedestrian travel, at the outside and not as an "afterthought" thrown into a project as it nears its ending.
No surprise, both Williams and Riegel made claims they should be returned to office due to their experience and established relationships within Lowcountry government.