Vocal Minorities Often Shape Public Policy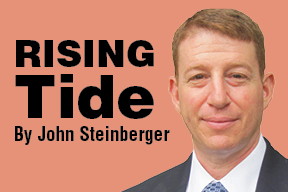 December 6, 2017
By John Steinberger | Contributing Writer
Vocal and well-funded advocacy groups have a lot of influence on public policy at the local, state and national levels. They often have a small number of advocates for their issues, but they create the image of overwhelming support. The groups all have non-profit, tax-exempt status. This column will analyze how advocacy groups influence non-vehicular transportation, offshore drilling and climate change policy.
Non-vehicular Transportation.
The local group Charleston Moves has paid staff and a large database. It has been effective in getting people to pack Charleston City Council and Charleston County Council meetings. The group influenced City Council to request shutting off a lane of vehicular traffic on the Legare Bridge going from West Ashley to downtown and replacing it with a pedestrian lane. There was never a survey done to indicate how many people wanted to commute by bicycle to downtown locations. The project was eventually derailed by the South Carolina Department of Transportation.
Charleston Moves got lots of its advocates to the Plan West Ashley meetings set up to develop the West Ashley Master Plan. The bicycle advocates created the illusion that large numbers of people wanted to commute by bicycle, even though on-site surveys revealed that 96 percent of participants currently use personal vehicles as their primary sources of transportation. Census data reveals that 84 percent of West Ashley residents commute outside of the area. How many people in West Ashley live close enough to their places of employment to ride bicycles to get there?
The West Ashley Master Plan draft being considered by the 17-member West Ashley Revitalization Commission on December 13 suggests that people need the option to ride bicycles to shopping centers. There is currently a bicycle and pedestrian path that runs from Village Green on Highway 61 to Bees Ferry Road and up the road to Grande Oaks. I never see bicycles at the Bi-Lo shopping center or West Ashley Walmart. The master plan draft also supports the notion of people being within a 10-minute walk of their workplace. How realistic is that for most West Ashley residents?
Offshore Drilling
The well-funded group OCEANA, which has the stated goal of protecting the world's oceans, organized a resolution campaign along the coastal South Carolina counties and municipal governments. The deep-pocketed group, which is funded by the Pew Charitable Trusts, the Oak Foundation and other tax-exempt non-profits, drafted the resolutions that coastal governments considered. Supporters of offshore exploration for oil and natural gas were typically not invited to speak at the local council meetings when the resolution was discussed.
Palmetto Promise Institute (PPI), a Columbia-based non-profit, has a survey showing that 77 percent of South Carolina residents support offshore energy exploration. At a recent hearing by a bi-partisan South Carolina House of Representatives ad-hoc committee, PPI President Ellen Weaver said, "There has been a coordinated effort along the coast to demonize the energy industry." Even with the well-publicized Deepwater Horizon oil spill off the coast of Louisiana, the tourism along the Gulf Coast fully recovered one year later the commercial fisheries have been completely restored. A lot of the shrimp we eat at Charleston-area restaurants today comes from the Gulf Coast.
Climate Change Policy
During the Obama Administration, America was a signatory to the Paris Climate Accord, which would have restricted American carbon-dioxide emissions, while giving a pass to China, India, and under-developed countries. The result would have been higher American gasoline, diesel and electricity prices and a lower standard of living for the American people. The policy was supported by universities that receive grants from the National Science Foundation and cpmpanies which receive "green energy" subsidies, as well as numerous non-profits.
President Trump removed the United States from the Paris Climate Accord, stating that it wasn't in the nation's best interests. Carbon dioxide makes up only 0.04 percent of earth's atmosphere and global human activity only accounts for 3 percent of that tiny concentration. Restricting American carbon dioxide emissions would have no impact on global surface temperatures.
John Steinberger is the editor-in-chief of LowcountrySource.com. To contact him, email John@LowcountrySource.com.