Turn Around, Bright Eyes
Total Eclipse Will Bring Massive Crowds to West Ashley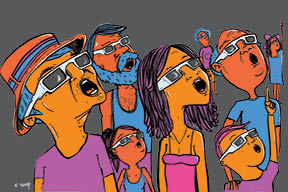 Chris Kemp
August 16, 2017
By Lorne Chambers | Editor
Around 2:45 p.m. on Monday, Aug. 21 the moon will pass directly in front of the sun and the alignment will be so exact that it will completely cover the sun and a total solar eclipse will occur for those directly in it's path. It has been 38 years since anyone in the continental United States has seen a total solar eclipse and even then it was only a few states. It hasn't been since 1918 that a nationwide band of totality stretched across the entire nation. There won't be another total solar eclipse in the Lowcountry until March 30, 2052.
"It's an excuse to visit Charleston and it's a major event," says Jennifer Mantini, a physics professor at ECPI and adjunct professor of Astronomy at the College of Charleston. She will be at Middleton Place that day giving a presentation on astronomy and how it's evolved over the years, from ancient civilization to modern day.
"We see it from a very scientific perspective, and it's an exciting event. But they would have probably seen it as an omen. The probably would have thought the gods were angry," says Mantini.
From a scientific perspective, Mantini explains that an eclipse happens when the earth, sun, and moon all line up along what is called the Line of Nodes. "It's the sweet spot," she says. "Basically it doesn't always line up perfectly and it's not the earth's fault or the sun's fault. It's the moon's fault." Sure blame the moon! She says because the moon's orbital plane is off a little bit, it is rare to get all three lined up perfectly.
"I don't think I'll ever see anything like this again in my lifetime, unless I travel somewhere," she says. And many across the country are traveling here for the once (or twice)-in-a-lifetime astrological event. The next total eclipse visible in the United States will be 2045. After that it will be 2099.
The eclipse proves to be a boon for local hotels and restaurants. Hotel rooms in West Ashley and around Charleston have been sold out for months once eclipse frenzy began to spread across the country.
For folks willing to brave the congested streets on Monday, there are no shortage of viewing parties and places in West Ashley to watch the eclipse. Here are a few places that are offering special viewing parties:
Citadel Mall is hosting Eclipse Extravaganza, a free event that is the area's only Official NASA Viewing Location. Held from 1-3 p.m. in the parking area adjacent to Planet Fitness, there will be free eclipse glasses to the first 500 people, sponsored by Trademark Properties. The event will include several kid's activities, food trucks, entertainment and more, all benefiting Darkness to Light, a West Ashley-based non-profit that seeks to protect children from sexual abuse. Official NASA educational materials and special Space Place items will be given out during the event, courtesy of NASA.
Darkness to Light will be the recipient of cash donations for use of the inflatable hamster ball maze, the sports arena inflatable, and a dunk tank, which will have some of your favorite local celebs, as well as, other local participants.
St. Andrew's Parks & Playground is hosting Totally 821, from 12-3 p.m. at the sports fields on Playgournd Road.
Brinker Field will be the main viewing area and will be free to enter with free solar eclipse glasses while supplies last. Over on the Optimist Field, from 12-2:15 p.m. there will be a Kids Zone, with games, bounce houses, water slides, and themed crafts. Admission is $5 for ages 3-12 for this area. Parents are free. Bathing suits are encouraged.
Moon Over Middleton will be held at Middleton Place, from 10:30 a.m.-4 p.m. and is free with general admission of $28, $15 for students (14 and up), $10 for children (ages 6-13), and free for children under 5. The first 500 visitors will receive certified safe eclipse-viewing glasses.
In addition to a viewing location, this event will also be educational, with a  "Meet the Scientist" presentation by Jenny Mantini, astronomer from the College of Charleston who will discuss the phenomenon of the eclipse and connect it with how humankind's evolving understanding of the cosmos played a role over many centuries in the advancement of knowledge.
Young scientists will be introduced to some of the tools that were employed to enhance man's ability to navigate across oceans and continents. They'll be shown how a sextant is used and how people used this tool as well as star charts — from prehistory to the European Age of Discovery — to find their way on the earth's surface.
Other related activities at Middleton will bring celestial distances down to earth with demonstrations such as Big Sun, Small Moon, a hands-on activity that explores the concept of apparent size that allows visitors to better understand the eclipse phenomenon using familiar objects.
Kids and grownups alike will find a number of fun activities at the Eclipse Edition of the Family Fun Craft Tent, such as making a Sun, Moon, and Stars mobiles and eclipse cootie catchers.The Middleton Place Restaurant's smoker trailer will be serving Lowcountry favorites picnic style on the Greensward so no visitor has to miss any part of the eclipse.
Charles Towne Landing is also hosting an eclipse viewing event from 10 a.m.-4 p.m. The park's open spaces will be great for viewing the eclipse and there will be a variety of educational activities going on before and during the event.