Trump Wins Contentious SC Primary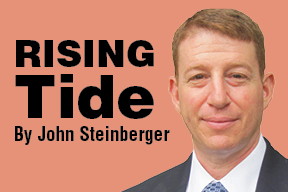 February 24, 2016
By John Steinberger | Contributing Writer
South Carolina's first Republican Presidential primary was in 1980, and that was contentious. George H.W. Bush went around telling voters that he was the most qualified candidate and even called Ronald Reagan's tax relief plan "voodoo economics." Reagan wound up winning big and established a trend. Newt Gingrich (2012) is the only candidate to win the South Carolina primary and not receive the party's nomination.
In 2000, anonymous calls went out telling Republican voters that Sen. John McCain had an illegitimate child, falsely referring to his adopted daughter from Pakistan. George W. Bush surrogates also made hay over McCain's opposition to the Confederate battle flag flying over the capital dome. Bush registered a convincing victory after starting from behind in the polls and went on to be a two-term President.
The recent 2016 South Carolina Presidential primary lived up to tradition. There were once again anonymous calls about Donald Trump's opposition to the Confederate flag being displayed on the Capitol grounds and mischaracterizations of Trump's policy positions, including a charge that he wants the government to take over the health insurance industry. Trump even got into a spat with the Pope over charges that building a wall on the Mexican border is not a Christian principle (never mind that the Vatican is surrounded by a huge wall).
Another controversy followed a debate during which Trump asserted that George W. Bush did not make America safe. One of his points was that the 2003 invasion of Iraq destabilized the Middle East and led to the rise of ISIS. Journalists thought that remark would really hurt him because the Bushes are adored in South Carolina. Perhaps that is true, but it didn't show up in the voting.
Despite the rancor surrounding the Trump campaign, the New York billionaire won South Carolina by 10 points over Sen. Marco Rubio in a record-high primary turnout. He won in every demographic category except for people with a college degree, which went narrowly to Rubio. Former Florida Gov. Jeb Bush was a distant forth at 7.8 percent of the vote and suspended his campaign shortly after the polls closed.
One of the surprise outcomes was Trump's advantage among evangelical Christians, which make up about 65 percent of South Carolina's Republican primary electorate. Evangelicals were heavily courted by Sen. Cruz, who had the endorsement of more than 500 pastors. Former Mike Huckabee strategist Hogan Gidley explained the outcome to The State newspaper: "They (evangelicals) see him as the one who will dismantle, crush and destroy government bureaucracies." Trump's endorsement from Liberty University President Jerry Falwell, Jr. in radio ads also helped him with that crucial demographic group.
Trump crisscrossed the state doing rallies in front of thousands of people at venues ranging from a tree farm in Walterboro to a concert arena in Greenville. One of his themes during the South Carolina tour was that his campaign spends far less money than all the other candidates but gets the best results. He suggests, "Wouldn't it be great if our government operated like my campaign, spending less and getting better results?" He pointed to America's K-12 education system in which we spend the most per pupil by a lot and rank near the bottom in student achievement.
He also talked about our need to rebuild the military in a more cost-effective manner, noting that we buy equipment that military leaders don't want at too high a price. He calls for a more competitive and transparent bidding process so we can reduce the unit cost of military equipment. He points out that the defense industry pays out a lot in campaign contributions, but since he doesn't need their money, he won't have to maintain the status quo on procurement.
Former South Carolina Gov. David Beasley, who has not endorsed a candidate during this campaign cycle, explained that Trump's self-funding status is very appealing to voters. "They see Trump as someone nobody can buy off, and he's willing to take on the (GOP) establishment and big government.
The next primary is Feb. 24 in Nevada, and then the big prize ahead is the grouping of 11 state primaries on Tues., Mar. 1 known as Super Tuesday or the SEC Primary, when 24 percent of the GOP delegates are up for grabs. We'll have a much clearer picture of who will win the GOP nomination in the coming weeks/
John Steinberger is the former chairman of the Charleston County Republican Party, a leading Fair Tax advocate, and a West Ashley resident. He can be reached at John.steinberger@scfairtax.org.