Training Our Youth For Tomorrow
Four WAHS students sign the dotted Line at Youth Apprenticeship Signing Day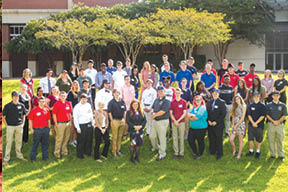 August 16, 2017
From Staff Reports
Youth Apprenticeship Signing Day might not have the same national notoriety as National Signing Day. However, in the Lowcountry, this regional collaborative effort with school districts, businesses, and organizations is picking up steam.
The 4th Annual Youth Apprenticeship Signing Day was held at Trident Technical College (TTC) August 8, 2017. Fifty-nine students, including 25 from Charleston County School District (CCSD), made their commitment to local businesses "official" by signing a document.
West Ashley High School had four participants, including  Julian Aycock, Class of 2018 (Mini of Charleston); Tyler Brooks, Class of 2018 (Jones Ford); Briana Brown, Class of 2017 (Roper); and Ashley King, Class of 2017 (Blackbaud).
"Our Youth Apprenticeship Program is just one of many ways that CCSD prepares students to be college, career, and citizenship ready," said Rich Gordon, CCSD's Career and Technology Education Executive Director. "Apprenticeships, aligned with the appropriate classroom instruction, provide rigorous and relevant academic, technical, and employability training for a wide variety of high-skill, high-wage, and high-demand 21st century careers."
Modeled after National Signing Day, where high school student-athletes sign National Letters of Intent to colleges or universities where they will play a sport, Youth Apprenticeship Signing Day gives students who are going into the workforce at a young age a similar experience when it comes to excitement and importance.
"This event provides us with the opportunity to celebrate the most exciting educational initiative I have experienced in my entire career," said Trident Technical College President Mary Thornley. "It is exciting because this program has power. It has the power to change lives in remarkable ways and the power to accelerate our economy and build a strong community. It is also exciting because it is a shining example of the type of change that can occur when multiple organizations work together in a united effort to achieve a common goal."