Time For A Celebration
From the left coast to our door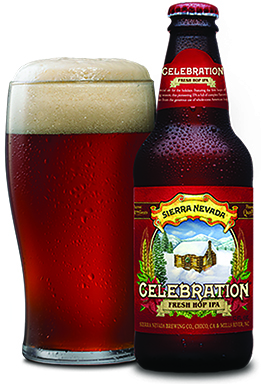 November 17, 2017
By Jeff Gredlein | The Beer Snob
Although the first day of winter is over a month away, the holiday season has begun. And, while in this part of the country we may not see snow for months to come, if at all, there are certain signs to tell you that we have moved to a different time of the year. One of those signs is the arrival of winter seasonal beers.
Most beers that only show up around this time of year are known as winter warmers. These seasonal treats are typically beers with more character than a brewer's yearly offerings. The distinction often comes from the use of more and better malt, spices and herbs, and/or higher alcohol levels.
However, a few late fall/early winter seasonal break the mold, and, while they're certainly distinct in character, the nature of the uniqueness is different than your typical winter warmer. Several brewers offer hopped up winter seasonal this time of year. These harvest ales typically offer fresh, recently picked hops. Great Divide's Fresh Hop Pale Ale is one of the best APA's made today. Founder's Harvest Ale is amazing. But no other hopped out beer says holidays like the wet hop beer from Chico, California.
Sierra Nevada's Celebration Ale is a fresh hop, once-a-year delight that no hophead should miss. And, while this beer definitely covers the bitterness class, it is robust in nature and has a glow-inducing power that allows the ale to fit nicely into winter warmer category.
Celebration ale is darker in color and higher in alcohol than Sierra Nevada's standard pale ale, and, as American IPAs go, Celebration ale is one of the best.
Depicted on the bottle is a white and red label, a snow-covered cabin on the edge of a valley; a distinct winter scene ringed with bright red poinsettias. The bottle stands out from the other Sierra Nevada offerings, and it's a delight to see it again this year.
This beer shows a lovely copper color, much darker and richer than most IPAs, and has a slight haze. The head is thick, creamy, off-white, remains atop the beer until the bottom of the glass, and leaves lace behind as it drops.
The aroma of hops greets the nose, fresh, citrusy, and spicy. The smell is of grapefruit and ground black pepper, strong and intense, but delightful. Chinook hops are used for bittering, and Cascade and Centennial are used in the brew and in the dry hopping, so you know the west coast tangy notes are present in the nose and in the mouth.
Flavors are complex, and oddly enough, malt is present and in the mix, although hops are the focus of the beer. Hops start at the tip of the tongue, and hops persist at the back of the throat; again, citrus, slightly piney, but also spicy and peppery. There is an underlying malt component, bread maybe, throughout every sip but its gone by the swallow. As this one warms up, alcohol is just barely noticeable.
Celebration ale is not quite medium bodied, but it is somewhat creamy, with just enough carbonation to keep it moving, although it has a dry finish. The beer is not overly bitter, and while its strength is its combination of American hops, they don't overwhelm.
Sierra Nevada's winter seasonal is 6.8% alcohol by volume (ABV), so it's not lightweight brew. Just one or two of these will put a warming in your tummy and redness in your cheeks and nose. From this is an outstanding American IPA, and strangely at home in the winter months. Grab a 6-pack before it's gone. Enjoy the brews … Cheers.
Gene's Haufbrau has at more than 200 in bottles or on tap. While they don't have every beer the Beer Snob writes about, they probably  have most. E-mail the Beer Snob at publisher@westof.net.