The New Sheriffs in Town
Three West Ashley Schools start year with new principals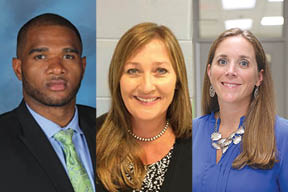 Brant E. Glover (West Ashley Academic Magnet), Michelle Conner (Ashley River Creative Arts), and Megan Williams (Springfield Elementary)
August 8, 2017
By Lorne Chambers | Editor
Among the 10 public schools in West Ashley, around one-third of them will have a new leader to start the 2017-18 school year, with at least one other to get a new principal at some point in the year.
Brant E. Glover has been named the new principal West Ashley Advanced Studies Magnet Middle School, Michelle Conner has been named principal of Ashley River Creative Arts Elementary School, and Megan Williams has been tagged as the Interim Principal of Springfield Elementary. Lee Runyon will remain principal at West Ashley High School until a new principal is assigned. Runyon has accepted the position as principal on special assignment to lead the development of both the North Charleston and West Ashley Centers for Advanced Studies.
Back in June, Charleston County School District (CCSD) announced the hiring of Brant E. Glover as the principal of West Ashley Advanced Studies Magnet Middle School, replacing LaCarma Brown-McMillan, who had been principal at the school since 2011 and is now principal at St. James-Santee Elementary School in McClellanville.
Glover started off his career as a middle school social studies educator. His first position was with Gainesville Alternative Learning Community in Gainesville, Ga., where he focused on integrating social studies units with real world issues, while placing an emphasis on behavioral and emotional intelligence. He brought his skills and methods with him when he moved on to teach at Gainesville Middle one year later. In 2013, Glover relocated from Georgia to South Carolina to serve as Assistant Principal at River Bluff High School in Lexington, where he coached teachers, students, and parents with the school instructional model of expeditionary learning, which makes learning active, challenging, meaningful, and public. Furthermore, Glover assisted with the implementation of a flex mod schedule at the school, which allowed students to make decisions with independent learning time during school hours.
Glover has extensive experience as a one-to-one mobile school leader; employing conflict resolution with students, parents, and teachers; administering formative and summative assessments; interviewing and hiring personnel; conducting teacher evaluations and utilizing SAFE-T and ADEPT; and implementing structured learning time.
Glover holds a Bachelor of Arts in Business Administration from Furman University, a Master of Arts in Middle Grades Education from Brenau University, and an Educational Specialist degree in Educational Administration and Policy from the University of Georgia.
When asked what he's most excited about in his new role at WAASM, Glover doesn't hesitate. "I'm most excited with being able to help educate younger students right before they embark on their high school journey. I'm eager to challenge all students to rise to their highest level of potential," says Glover, who adds that his first order or business is letting our students know that he and his staff are here to support them in their academic endeavor.
"Any organization including schools must have a foundation built on strong relationships in order to make positive gains," says Glover. "Schools can tackle specific objectives successfully and more effectively if harmonious relationships are set."
At the beginning of June, former Ashley River Creative Arts Elementary School Assistant Principal Michelle Conner was announced as the new Principal of the school. ARCA is a constituent district magnet school, serving more than 600 students in grades K through 5. The curriculum emphasizes the arts, with programs in fine art, dance, music, and drama.
Conner has big shoes to fill replacing Catherine Middleton, who when she retired earlier this year the South Carolina General Assembly passed a resolution to honor Middleton her contributions to the public schools of Charleston. But Conner seems more than up for the challenge.
"I was the assistant principal at Ashley River for two years before becoming the principal, so I know the school, the faculty, and many of the students and their families, which is helpful as I move into the position of principal," she says. "I'm always learning and am really looking forward to this new challenge."
According to Conner, the first order of business on the first day and everyday is safety. Safety is an even bigger priority after last year when a special needs student was found unresponsive in a pond behind the school. The child survived, but it was unclear how the child had ended up in the pond, which is separated from the playground by a 6-foot fence. It was found that the school's 15 security cameras were not working properly that day.
After student safety, Conner says she wants to make sure that students are getting to know their new teachers and classmates, feel comfortable in their environment, and are ready to learn new things while having fun.
In her career as an educator, Conner first served as a graduate assistant to 3-year-olds at the Early Childhood Development Center at the College of Charleston while obtaining one of her master's degrees. Upon completion of her graduate studies, Conner obtained a preschool special education teaching position at Mary Ford Elementary School in North Charleston in 1993, where she also served as Preschool PTA Club Chairperson.
Several years later, Conner took her career abroad serving as an English as a second language (ESL) kindergarten teacher and English Grade Level Leader at the American School of Guatemala in Guatemala City from 1996-1999.
Upon her return to the U.S., Conner was hired as a kindergarten teacher at a low-income, multicultural school in Alexandria, Vir. Several years later, she went on to teach 2nd grade in a similar school environment in Wichita, Kansas before returning to Charleston In 2004 to teach at Mt. Pleasant Academy (MPA) where she instructed kindergarten, 1st, and 3rd grades over the course of the next 11 years.
While at MPA, Conner spent time during the summers serving as a Summer Literacy Program Site Coordinator at Mitchell Elementary and assisting MPA administration with special projects, including back- to-school activities and programs for teachers. In 2015, Conner became the Assistant Principal at Ashley River Creative Arts Elementary where she has served up until now.
Conner holds a Bachelor of Arts in Language and International Trade with an emphasis in Spanish and Global Marketing from Clemson University. She also has a Master of Arts in Early Childhood Education from the College of Charleston and a Master of Education in Elementary Administration from The Citadel. She has also served as an Aspire Plus Cohort Member, Assistant Coordinator of Arts Mini Conference, SAFE-T Evaluator, PTA Board Teacher Liaison and Vice President at MPA, and was a CCSD A-B-C Award Nominee and the 2011 Teacher of the Year for MPA.
"I would say my biggest priority is to keep Ashley River moving in the right direction, through the use of arts integration," says Conner. "I'm really excited to welcome all of the students and parents and to let them know of the exciting events we have planned this year."
Just last month, Springfield Elementary Assistant Principal Megan Williams was named Interim Principal at the school, replacing Blondell Adams, who had been at principal at Springfield since 2010 and is now the Director of Elementary Gifted Programs and Talent Development Academies.
"I have been the assistant principal at Springfield for the past five years so I know the teachers, students, families, and community very well," says Williams, who graduated from Clemson University with a Bachelor of Science in Elementary Education. She earned her Master of Education from The Citadel in Educational Leadership, and her National Board Certification in 2005. "Springfield Elementary School is a Talent Development Academy, a place of rigorous and high level learning where the academic talents of all students are nurtured and developed. My priority is to support the teachers in this initiative."
Williams began her career in the CCSD at Charles Pinckney Elementary School, where she taught 5th grade for eight years. In 2008, she moved to Stono Park Elementary in West Ashley and taught 5th grade for one year and served as the Lead Teacher for three years.
Next Williams transitioned to Springfield Elementary, where she has served as the Assistant Principal for the past five years. "I am really excited to transition to this new role and continue to make Springfield an excellent school," says Williams. "I am excited to continue working at Springfield and supporting the school community in any way that I can."
Williams has also been a member of the District's Elementary Code of Conduct/Progressive Discipline Plan Project Team and says that her first order of business is to establish an environment in the building that is safe and conducive to learning. "It is important to build relationships with students and families to ensure a successful year," she says.