The South Has Come A Long Way In 100 Years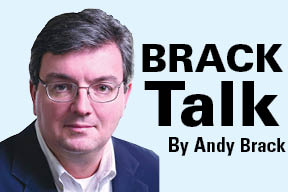 September 28, 2017
By Andy Brack | Contributing Writer
One hundred years ago, my great-grandfather, weakened by the flu, died of what's believed to have been a ruptured appendix. He was 38 years old. The season's cash crop, cotton, was about ready to pop in the fields in rural middle Georgia.
Charles Columbus Brack left a 31-year-old widow and six children, aged 1 to 10. They lived in an unpainted house five miles from the nearest town. It was only a mile from their Baptist church where, a few days ago, a family reunion of sorts occurred.
Tables in the church hall showcased just about every sort of Southern food – from fried chicken and roast beef to at least four kinds of beans, macaroni and cheese, potato salad, rice salad, and plain salad. The dessert table was almost as long with the 16-layer chocolate cake being the talk of the room. (I liked the caramel cake.)
As I viewed my great-grandfather's gravestone amidst the red dirt of middle Georgia, I realized the Chamber of Commerce clear skies and temperature in the mid-80s were probably much like those on the day he died. On that day, my 8-year-old grandfather and his 10-year-old brother became the "men of the house." Granddaddy reportedly never returned to school because he had to work in the cotton fields that the family rented. He toiled on the tenant farm for more than two decades until he and his family moved to Macon, Ga., just before World War II. Family records show that at the height of the Depression, he earned $60 from one year's cotton crop after borrowing $100 for seed and fertilizer through a then-new New Deal program.
My, how things have changed. One hundred years ago, the Dow Jones Industrial Average was about 75 points, only to plunge 41.22 at the lowest point of the Depression. It's now more than 22,000. Imagine that. Back then, mules and wagons were the main transportation; these days, cars and planes rule the roost.
One hundred years ago, millions of Southerners, black and white, lived in poverty on small farms, either rented or sharecropped. In Georgia – or South Carolina, Alabama or Mississippi – people lived a life of subsistence thanks to the legacy of a stagnant economy after the Civil War.
For generations, families on farms couldn't get ahead. Haunted by bills, drought and pests, they survived by sharecropping or borrowing money to rent land to raise cash crops. Sure, they had gardens in summers and they canned what they grew to get by in the winters. But their hard lives lacked variety.
A June 1936 photo shows a Beaufort man, his wife, a barefoot boy in overalls and the seven bushels of tomatoes they spent a day picking. Other examples of Depression-era photos by now-famous photographers:
• An April 1941 photo of a Pacolet family having lunch portrays a modest meal: A bowl of peas, fried okra and a plateful of biscuits. A boy, his mother and an older man each have a cup of coffee on a saucer.
• Several July 1937 images show a Chesnee sharecropper family in grim, sparse, dusty conditions. Their few pieces of silverware are in a tin can. A run-down well is the water supply. Kids sit on floors.
• Six ducks follow a woman carrying a twig broom after apparently sweeping the yard in December 1938 outside a decrepit, one-room Beaufort-area cabin .
As the federal government worked to shore up the economy with an alphabet of New Deal programs, displaced tenants often moved to cities to try to find work. Opportunities increased with an industrial boom caused by World War II.
In the years since, the South has undergone an economic and cultural transformation brought on by better education, civil rights protections, economic investment, flocks of retirees from other states, air conditioning, better transportation, and technology that seemed a dream when Star Trek was first aired.
One hundred years ago, my great-grandfather likely would have never imagined today's interconnected South where a free phone call over the Internet to the other side of the world is just a click away. Throughout the South, we've still got problems, particularly with the widening gap between rich and poor. But it is way better than the way things were a century ago.
Andy Brack is editor and publisher of Statehouse Report. Have a comment?  Send to: feedback@statehousereport.com.