The Road is Home
Australian Mark Wilkinson plays garden in Northbridge Terrace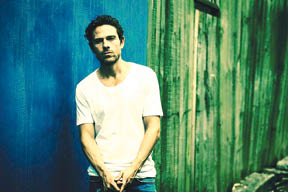 May 11, 2017
From Staff Reports
Australian singer/songwriter Mark Wilkinson is financing his worldwide tour by playing at house parties in various cities. Northbridge Terrace resident Michael Nolan persuaded Wilkinson to add Charleston to his itinerary and is hosting him for an intimate concert in his garden on Tuesday, May 23.
"Acoustic pop," "Americana," "neo-folk," "singer- songwriter" are all labels that could aptly apply to Wilkinson, but ultimately he lends his voice to the human condition. Those moments in life that bear memory, those questions that drive us all.
It's this simple but all too rare ability to connect that's helped Wilkinson music have traction on two continents. Wilkinson has shared arena stages with some of music's most enigmatic names like Brian Wilson and he's now performed sold out shows in half a dozen countries. But he can still be found performing on the street, house parties, and forging connections.
Now on the eve of releasing his third studio album, last week Wilkinson presented the Lost In A Dream EP. This 5-song extended player previews the upcoming release with lead-off track 'We Were Rich' lifted from the album. Entirely self-produced, this intimate collection of songs showcases his timeless sound, rich vocals, and poetic gift, keeping the essence of the songs in full focus.
To celebrate the release of Lost In A Dream, Wilkinson returns in 2017 for his biggest but most intimate tour yet. In honor of the connection with his fans, he has given them the opportunity to host a show, be it in their garden, living room, or village hall, to present the songs in their most stripped back form and share in a night of music that breaks down the barrier between artist and audience. To share in those experiences that bind us all. Performing countless shows around the globe, this year he has come to call the road home.
Mark Wilkinson performs Tuesday, May 23 in Northbridge Terrace. Tickets are $21 and the attendance is limited to 55. People are given the address when they purchase their ticket/ Tickets can be purchased at markwilkinsonmusic.com.