The N.E.(w.) IPA
I like 'em Real Thick and Juicy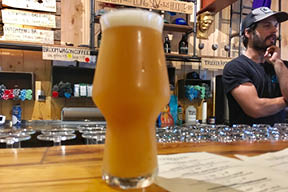 August 8, 2017
By Jeff Gredlein | The Beer Snob
For the majority of my time as a drinker of great American beer, when it came to IPA and Pale Ale, it was always West Coast style. Think of the piney, citrus hops grown locally on the west side of the land, and beginning with one of America's first brew pubs, opened in 1982 in Washington, this style of ale moved down the coast to Oregon and California, and across the country. This trend would soon see the juicy, hoppy, American IPA develop into the country's signature craft beer style.
Sure, I cut my teeth on the English IPAs and pale ales I could get my hands on in the mid-'90s and into the 2000s. Yet I rarely seek those beers out now. Honestly, I cannot say the last time I had a Bass (pale) Ale. And while I did enjoy a Great Lakes Commodore Perry, an English-style IPA, in the past year, that beer is brewed in Cleveland, Ohio, using native ingredients.
If you've recently found yourself thinking something strange is going on with the American IPA, well you're not alone. For some time, the classic American IPA has been getting, well, a bit hazy. And it's a trend that has seen these cloudy versions of the style pop up in every brewpub and beer store around.
It's not like I've never written about a style-changing version of IPA. The beer that changed the game in America, while getting more and more hoppy over the years and often gaining alcohol strength, has, in many ways, shown numerous smaller changes in the last decade.
Fresh and wet hop beers were all the rage at one point. Then red and black IPAs showed up all over the place. Who can forget the WIPA (wheat) and IPL (lager) movements, which are still in motion? However, if the last few years are any indication of where your American IPA is going, it looks like the new style is here to stay.
The new cloudy, unfiltered versions of IPA hail from New England; many are calling them NEIPAs. Even if the title is foreign to you, think back to the recent IPAs you've had, are they extremely juicy, cloudy to the point of looking thick, and slightly sweet? You're likely drinking a New England-style IPA.
The king of suds sites, BeerAdvocate has declared NEIPA a 'style' and points readers to "Take a moment to look at our list of Top Beers, where they've been dominating, influencing, and inspiring brewers and consumers for several years." Where the top-rated, most sought after beers were exclusively either Russian Imperial Stouts or rare Beligan ales, the list is now about 50/50 NEIPAs and classic RIS.
Unlike the sour revolution, this is a trend I'm behind. Mind you, I'm not against the sour squad, but mine is a love hate relationship. The subtle and sublime I love. The outrageous and inane, I hate. I say bring on the clouds!
Breweries making a name for themselves with these new beers often, but not exclusively hail from the northeast. Trillium Brewery and Tree House Brewing are both out of Massachusetts, while Hill Farmstead and The Alchemist reside in Vermont. Fear not, you won't need to book a flight north to get your NEIPA fix. The Veil Brewing Co. in Richmond, Va. is making several fantastic examples. Even the new Charles Towne Fermentory of Avondale is in the game with several awesome hazy IPAs on offer. Given that founder and head brewer Adam Goodwin is from Boston and formerly of Trillium, you too can get in on the new style now. Enjoy the brews … Cheers.
Gene's Haufbrau has at more than 200 beers in bottles or on tap. While they don't have every beer the Beer Snob writes about, they probably  have most. E-mail the Beer Snob at publisher@westof.net.