The Most Dangerous Man in West Ashley
Patrick Hayes Won't Stop Fighting for Teachers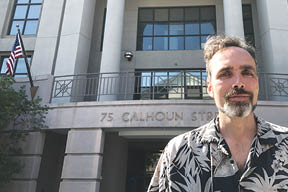 June 7, 2017
By Bill Davis | News Editor
How has this guy not yet been fired? Or reassigned to a different school? Or roughed-up?
For the past seven years, Drayton Hall fifth-grade teacher and West Ashley resident Patrick Hayes has been a one-man wrecking ball, wreking havoc with his bosses at the Charleston County School District.
Hayes has done what few teachers before him have done: speak his mind in public about how the school district is run and the decisions the School Board is making.
Hayes has appeared at board meetings, organized and led protests at the doorstep of 75 Calhoun St., and hosted various social media platforms where he excoriates those above him.
And his latest efforts may have protected West Ashley High principal Lee Runyon from being forced out of his job by Superintendent Gerrita Postlewait.
Seven years ago, the native Long Islander took to his bully pulpit when he thought it was unfair of the district to place so much emphasis on how students scored on various Measure of Academic Progress tests in the decision-making process of whether to rehire teachers.
He worried that if a class didn't show enough educational attainment over the course of an academic year, their teacher could get the axe. Hayes argued that was a myopic, punitive response that did little to improve education.
Sound familiar?
This year, Hayes decided it was time yet again to "get out of my La-Z-Boy" and go after the district again. This time, his sights were trained on the district's use of the controversial EVAAS test, or Education Value-Added Assessment test, which has been the subject of much criticism, mostly from teachers, and lawsuits in the Southeast.
Additionally, he alleges that the district, prompted by the superintendent, will use the test to decide teachers' careers within the district.
When asked why he'd been left alone by a notoriously political school district, Hayes said, "I think that if I were fired, or something, the link would be too big to be deniable."
One district teacher who lives in West Ashley, speaking on condition of anonymity, says that Hayes' "heart is in the right place," and that they are glad he is "speaking about what he feels … and that someone is willing to do that" without the fear of ramifications that plagues so many other teachers.
"A lot of us want to be able to say what he's saying, but …"
Their silence may be well-reasoned, considering the tumult the district always is going through historically, from the contentious years when John Graham Altman chaired the board, to misplacing $64-million, and to the board's efforts to force out past superintendents like the late Chip Zullinger, the late Maria Goodloe-Johnson, and most recently Nancy McGinley.
A school administrator who also calls West Ashley home says of Hayes, "I loved the guy the first time I met him," and went on to praise him for not having swayed in his convictions or from his job in the classroom.
"It's nice for teachers to have someone voicing their concerns," said the administrator, who also asked to remain anonymous out of fear of retribution.
Despite having sent Postlewait a box of deliciousness from West Ashley's Christophe's Macaron et Chocolat when she first took office downtown, Hayes has singled her out for special criticism ever since.
He decries the superintendent's claim that she would never use EVAAS benchmarks to hire or fire teachers, posting video of her chiming in on the topic during a School Board meeting.
Hayes says Postlewait is "trashing the district with bad data," pointing to a time he claims she said that 50 percent of the district was below average in MAP scores.
"If you think about it, it's an average so half the district would be above the average," he says shaking his head.
Hayes claims to have been sent a "gag order" from the district, to which he responded with a snippet of case law, only later to have received an apology and an explanation.
One of his more recent bombshells was that the superintendent identified WAHS principal Runyon for reassignment after he refused to put teachers on notice whose classes had fallen short of EVAAS benchmarks.
When asked this week for comment, the school district issued several comments. Firstly, it refuted his assertion that EVAAS scores could cost teachers jobs:
"The Charleston County School District and Superintendent Gerrita Postlewait continue to maintain the belief and practice that no single criteria should be used to measure the quality of education being provided to the children of Charleston County School District.
This position was once again reaffirmed during the May 22, 2017, Board of Trustees meeting. We are committed to providing equitable opportunities for all students to learn and to providing the support our teachers need to make this possible."
Spokesperson Andrew Pruitt also states that the district "did not issue a gag order, nor can we. Only courts can issue a gag order." He cites the district's policy that no "employee of Charleston County School District may be penalized, harassed or disciplined in any way for … having communicated in any way with any public official or member of the press or member of the public."
Hayes counters by producing a 2014 memo from Pruitt's boss directing him and all other teachers to "not speak to members of the media, in person, on the phone, or via email" before speaking first to a  designated member of their office.
As for Hayes' claim about Runyon, Pruitt says that while many others in the community may have made comments about Runyon and other principals in an allegedly similar situation, "as a district we have never made any statement/official notification about their status."
Runyon supporters recently piggybacked on a Hayes-led protest, raising Cain that he should be allowed to stay put. A few weeks ago, he was given a "pending" status on what school he may be heading to next year.
Coming as a surprise to some, Runyon was not reassigned to a new school this week.
Runyon said this week that those issues may have "intertwined" in the district's decision to advertise his job, but said the full reason would have to come from "top level leadership from the school district."
Runyon also confirmed that he has communicated with Postlewait earlier this spring that he had no intention of putting any of his teachers on notice whose students hadn't met test score goals.
West Ashley High mom Katie Brown, a big Runyon supporter, noticed that Postlewait did not show up for the school's graduation last week, the first time in years a superintendent hasn't attended the ceremony for one of the largest schools in the district.
Brown says Runyon stood up for his teachers, because "they wouldn't want that in their employment files."
Brown says she's heard many teachers will request to only teach advanced classes going forward if the EVAAS benchmarks are enforced, to make sure that they aren't penalized professionally for being assigned to disinterested students.
The anonymous West Ashley teacher from above worried that teachers would vie to work solely with middle students, as lower and higher-achieving students typically show the least yearly improvement.
Hayes says he just wants Postlewait and the district to research what is being done successfully to educate similar populations of kids across the country, and then install those "best practices" here.
It's yet to be seen how long, or how far, Hayes is willing to take this fight.
Strap in.