The Legislature's Wild 2017 Ride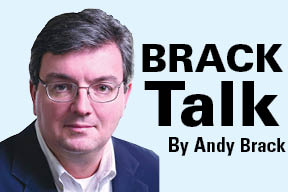 May 17, 2017
By Andy Brack | Contributing Writer
The General Assembly's 2017 legislative session is sure to be remembered for a long time as a wild ride.
Two things stand out. First, who in the world would have thought the Republican-led legislature would have given millions of dollars in tax relief to working people in South Carolina in a bill to hike taxes to fix roads? Most of the time, tax breaks go to the rich.
Second, who would have thought that the state's new governor, Henry McMaster, would stay so much in the background during the legislative session?
First things first: Roads. The deafening clamor of a majority of South Carolina voters got so loud that tax-averse Republicans partnered with Democrats to craft an increase in the gas tax that got so much support that it was easy for the House and Senate to override a gubernatorial veto.
The time, it seems, has come for hundreds of millions of more dollars – about $633 million per year in 10 years – for our pitted, scarred, congested, nasty roads. Senate Democrats, led by Sen. Vincent Sheheen of Camden, figured that out and used it to their advantage, correctly deducing some Republicans would want some kind of tax relief to be able to swallow the gas tax hike.
Democrats, understanding how hiking the gas tax would be more of a burden on working people than those who are wealthy, insisted tax relief should be targeted to working families. And they got it with three things – a non-fundable earned income tax credit to be a companion to Ronald Reagan's similar federal credit for the working poor, a higher tax credit for families with two wage earners, and more in tuition tax credits to families with kids in state colleges. In 10 years, the tax credits will add up to $76 million for working families. See StatehouseReport.com to learn more about these tax relief measures.
Republicans, not do be outdone, wanted the regressive nature of the gas tax hike to be revenue neutral through a rebate over the next five years. But here's the kicker: If you want the rebate, you have to keep your receipts and prove you deserve it. The rebate could be as much as $116 million by the time it expires in five years, but many insiders think most people won't take the time to keep up with the paperwork.
The big winner: South Carolina's roads. A possible loser? Gov. Henry McMaster.
At the beginning of this year's session, South Carolina had a different governor, Nikki Haley. But upon her Senate confirmation as the nation's ambassador to the United Nations, McMaster became governor, a role for which he has hungered for years.
At first blush, most in the legislature figured McMaster would be much easier to work with than Haley, who often let her ambition and personality get in the way of the people's business. But McMaster, savvy enough of a political player to be the first statewide official in the nation to endorse Donald Trump, has stumbled since taking office in late January. He hasn't had much of a legislative plan, despite having notice since November that he'd probably get the state's top bully pulpit.
In February, he said he would ask the Trump Administration for $5 billion in federal money to improve roads and deepen Charleston harbor. We called this idea to be no less than a request for a federal bailout for a state that didn't deal with road funding for 30 years.
Then McMaster got wishy-washy about the gas tax hike, signaling he didn't want it but might not veto it, only later saying he would veto it. In its place, he suggested borrowing $1 billion through bonds to fix a problem with roads that most say will cost more than $20 billion.
Now his gas tax veto is facing criticism with some saying it looks like a baldly political move to shore up support in the right wing of the GOP, part of which might be getting enamored with a Haley protégé who wants to be governor.
The governor's political future aside, many will remember the 2017 session as a great day in South Carolina because it showed legislators can work together for the common good – something they need to do more of.
Andy Brack is editor and publisher of Statehouse Report. Have a comment? Send to: feedback@statehousereport.com.