The Cold Mountain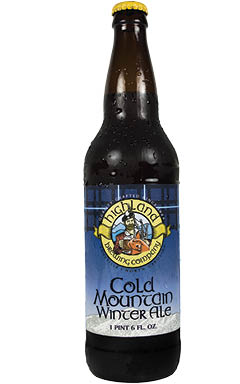 November 30, 2017
By Jeff Gredlein | The Beer Snob
For many beer aficionados, fall to winter is the best time of the year. A large number of seasonal brews begin hitting the shelves over the holidays, and some of these are the best beers of the year. Snowy scenes adorn bottle labels, festive names are created and breweries attempt to present exciting creations for the holidays.
The beers go by many different names: some are called holiday beers, others Christmas special brews, and some known as holiday spiced selections. Whatever their title, brewers from all over have offered winter specialties for the gathering of family and friends over the holidays. The beers created for the cold winter months were made with strong flavors and higher alcohol levels, hence the name winter warmer.
The winter warmer style of beer hails from England. The beers offered around the holidays in England (and Germany) are very malty and strong, they are hearty, typically sweet, and made to be savored and enjoyed slowly. In strength and flavor, they fall just under barleywines. However winter warmers do not make use of spices or herbs in the brewing process.
The seasonal brews that have various additions are called winter spiced beers or Christmas beers. Belgian and American brewers of winter seasonals often employ spices in their creations. Many winter spiced beers will have flavors reminiscent of the holiday season, such as gingerbread, cinnamon, nutmeg, brown sugar, molasses, or even the essence of spruce, pine or fruit trees. These spiced beers can be an amazing addition to the typical holiday fare.
Another unique characteristic of many spiced seasonal beers is their ever-changing flavor profile. While most brewers strive for consistency and standards with their beers, quite a few of the Christmas beers vary from year to year. This idea was started in 1975 with the first edition of Anchor Brewing's Our Special Ale. This trend is continued with amazing results in the best winter spiced beer on the east coast, Cold Mountain Winter Ale.
Brewed in Asheville, North Carolina by Highland Brewery, Cold Mountain is a stellar Christmas beer that arrives around late November, and is gone in no time.
Cold Mountain is a definite treat for the nose and the tongue, but it's a lovely beer visually as well. The color is a hazy, deep auburn that glows in the glass, and presents a creamy head of khaki tones. Lace remains behind, and the head stays with the beer well into the glass.
Cold Mountain smells like the holidays, with hints of sweet malt and nutmeg over top of ripe, dark fruit and sugar cookies. There is also a spicy hint in the mix, but I can't place it. Not pepper, possibly a hint of alcohol and ginger?
Flavors of this beer are delightful, really perfect for December. Toffee and vanilla start off followed by cardamom and other sweet/spicy notes. Berries make an appearance, as do the sugar cookies from the aroma and maybe even cinnamon and caramel candy. This is a sweet beer, but it's not cloying.
Cold Mountain is medium bodied; with a moderate amount of carbonation, yet the beer is silky smooth. It finishes slightly dry, as hops make a quick appearance at the swallow as the beer warms, but the sweet maltiness is there as well.
Cold Mountain is a standout in the winter seasonal beer category, one of the best. For such a complex and rich beer, it's easy to drink and enjoy. For the next few weeks, this is the only beer I want to drink. Highly recommend, find a bottle for yourself soon, and share it during the holidays. Enjoy the brews … Cheers.
Gene's Haufbrau has at more than 200 in bottles or on tap. While they don't have every beer the Beer Snob writes about, they probably  have most. E-mail the Beer Snob at publisher@westof.net.