The Cellar Experience
West Ashley wine enthusiast offers innovative classes and private wine buying sessions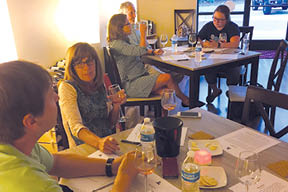 September 13, 2017
By Rachel Castejón | Contributing Writer
Although we're currently seeing growth in the West Ashley food and beverage business sector, Cellar Experience owner and operator Wendy Keefer once lamented the lack of options for those residents on this side of the drawbridge.
Keefer wanted to offer regularly scheduled wine classes, private events, and individualized, by-appointment guided wine-shopping to the community. She wanted to have prices that were  "lower than most, if not all other shops in the area" and offer unique vinous adventure. So in January Keefer opened her business with the goal of sharing her love of wine "in a setting that felt more like you were in a friend's dining room than in a business," she says.
The shared experience of wine is what Keefer is all about. At Cellar Experience she offers innovative classes and private wine buying sessions in a way that is fun and accessible, even for the novice wine drinker. It's not about being a stuffy know-it-all, but a curious and open oenophile (a connoisseur of wines).
"I am not here to tell you what you should think, buy, taste or smell, but to help you figure that out for yourself and ultimately to just help you have fun with wine," says Keefer.
One popular experience, which may be available in take-home form in the near future, is the Cellar Mystery Experience. Described by Keefer as "something akin to the board game Clue meets an escape room," guests are given basic wine information and clues in order to determine grape variety and the origin country of each wine in the tasting. Also vying for the number one spot in popularity at Cellar Experience is the Red Wine Blending Session. Ending in a friendly wine-blenders' competition, the session participants taste several red wines with the idea of combining them to create one's ultimate favorite in one bottle. After taste-testing fellow classmates' combinations students vote on a favorite.
Flexibility is the name of the game when it comes to private events. Keefer is up for just about anything. She has even hosted a book club where she pairs a wine with that meeting's literature. On the nature of the event Keefer comments, "It is a little silly, but a lot of fun. I love finding creative ways to incorporate wine into daily life."
Lest you think Keefer is all fun, games, and wine mysteries, it's important to note that she continues her wine education with a new certification yearly. Already a Certified Specialist of Wine (CSW), a California Wine Appellation Specialist (CWAS), and an Italian Wine Professional (IWP), Keefer is currently enrolled in the Burgundy Masters Program offered by the Wine Scholars Guild.
Even in the "extensive and ever-changing" world of wine Keefer always keeps in mind the studies she has read claiming "the more one knows about wine, the more enjoyable it is." As Keefer continues to enjoy her wine more and more as each year (and certification) passes, she looks forward to growing Cellar Experience with at-home activities, a new wine cellar, and more locations.
The Cellar Experience is located at 1662 Savannah Hwy #150A. For more information visit www.cellarexperience.com or email info@cellarexperience.com to get your tasting sessions, classes, or private event scheduled.