The Brownies Are Back!
Burrell & Flynn's reopens just with a slightly new concept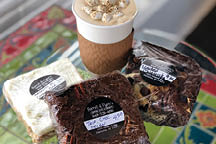 December 19, 2017
By Rachel Castejón | Contributing Writer
Many of you might be familiar with the little black building in front of what will eventually become West Ashley's first and long-awaited Whole Foods. The sign reads Burrell and Flynn's and owners Beth Burrell and Seana Flynn want you to know that they are back in the coffee and pastry business. After starting as a coffee and sandwich shop in 2011, the partners decided to expand to catering and close the walk-in/drive-through portion of their business.
Flash forward to 2017 and Burrell & Flynn's is back open for business with a slightly tweaked concept, but with all the favorites that it was remembered for. "We missed the day-to-day customer interaction and decided that it was finally time to say goodbye to the caterings and to re-open with a simpler concept," says Burrell.
As long-time Charleston residents (Flynn is a native) these businesswomen know how to read the West Ashley crowd. They also own the popular Consign Charleston on Sam Rittenberg Boulevard. Burrell and Flynn are banking that with the new Whole Foods arriving and nearby neighborhoods being spruced up by young professionals looking for a non-corporate coffee spot, the arrival of locally roasted beans and homemade pastries to the neighborhood location couldn't be better timed.
Burrell does most of the baking and although Flynn is also a baker she specializes more in the taste-testing department. It's a tough job, but someone has to do it.
Burrell is proud of their giant homemade brownies. "I would say that our best-selling brownie would be a tie between the triple chocolate and the loaded Oreo cheesecake brownie," she says. But it's the cappuccino chocolate chip muffin that has an actual call list for ordering.
While many are excited about the re-opening of the neighborhood coffee and pastry shop, those who got to know Burrell and Flynn's during their catering years may miss some of their more savory options. You're in luck- "We do still offer our chicken salad and pimento cheese to go … for all the people who have continued to order from us through the years," says Burrell.
Although Burrell and Flynn's had previously set up shop at the farmer's market downtown, now you'll only have to venture to their old/new West Ashley spot for a taste of the good stuff.
In addition to the coffee shop and bakery and Consign Charleston, the ambitious married couple also own a large consignment store in Columbia and actually sell some of their pastries to a few in the state capital as well as local restaurants here in Charleston. You can always snatch up a brownie or two from the basket at the register at Consign Charleston when you're there doing some last minute Christmas shopping.
With other parts of Charleston seeing rapid openings and closings of restaurants, bars, and cafés, it's refreshing to see business owners adapt to their local clientele as opposed to closing up shop and moving on to the next project. When the coffee and sandwich shop didn't make sense anymore Burrell and Flynn rethought the concept, and when their neighborhood began to change once more, the women came back around to better serve the locals.
There is no doubt that Burrell and Flynn's coffee and pastry business will fit right in to the new West Ashley and if it ever doesn't, I'm sure these two entrepreneurs will know exactly what to do next.
Burrell & Flynn's is located at 1209 Savannah Hwy. For more information, call (843) 225-4851 or find it on Facebook.