Surfs Up at Mellow
Avondale Surf + Ale Bash offers double feature of surf films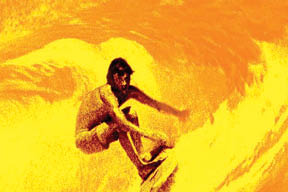 February 23, 2017
By Lorne Chambers | Editor
Everyone enjoys a good surf flick. Even if you're not into surfing the beautiful scenery and beautiful people make them fun to watch. Starting at 8:30 p.m. this Saturday, Feb. 25 Mellow Mushroom will be hosting the Avondale Surf + Ale Bash featuring a double feature of surf films on the big screen and a special night of tasty waves, brews, spirits, and pizza.
Sponsored by Carolina Surf Brand, Peligroso Tequila, and Terrapin Beer Company, the Avondale Surf + Ale Bash is an encore showing of the award winning Attractive Distractions and Uncharted Waters, a film that explores the unique life that propelled Australian surfer Wayne Lynch to stardom.
As the name might suggest, Attractive Distractions is chock full of beautiful waves, beautiful scenery, and beautiful women from Hawaii, Portugal, Indonesia, and more. Pro surfers, such as Albee Layer, Matt Meola, and others are featured in the film, which won Best Cinematography at the Carolina Surf Film Festival and Best Soundtrack and Viewers Choice at the Florida Surf Film Festival.
Proceeds from the event will benefit the Charleston Chapter of the Surfrider Foundation, a non-profit environmental organization dedicated to the protection and enhancement of the world's waves and beaches through conservation, activism, research and education.