Student of the Month — Sam Dowd
WAHS Senior takes pride in being a Wildcat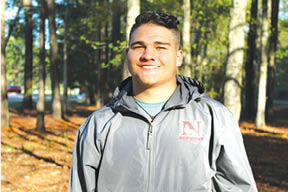 April 4, 2017
By Haley Cutaia | Contributing Writer
West Ashley High School senior Sam Dowd's hard work, communication skills, and character earned him the title of Student of the Month. "Sam plays two sports, is very involved in school activities, is involved in a youth group, and is supportive of all activities around the school," says math teacher James DuPre. "Sam has been an exceptional addition to West Ashley High School and the Charleston community over the last several years," says English teacher Julia Shaddrix.
Dowd takes pride in who he is, which is why his teachers believe in him. His strength in being enthusiastic and brightening the school days through his personality set him apart from his peers. "His conscientious approach to his studies and his enthusiasm for extracurricular activities have made him a well-rounded student both in and out of the classroom," says Shaddrix.
Dowd believes he owes his success to his father, David Dowd, who teaches Leadership and coaches quarterbacks at West Ashley High School. "I look up to my dad everyday," says Dowd. "He's my hero." His father influences Dowd to do his very best in all games he plays. Something else that helps Dowd prepare for a game is listening to his favorite song, "Party in the USA" by Miley Cyrus. "It gets my blood pumping and makes me jump around," says Dowd.
In addition to admiring his father, Dowd also looks up to Tom Brady, football quarterback for the New England Patriots. "His story and work ethic is something I want to achieve," says Dowd. It seems he's halfway there already, as his optimism and teamwork won him the Wildcat Award for football. Dowd hurt his knee and was out for one season, but that didn't stop him from being there for his teammates. Instead of being down about not being able to play, Dowd said he decided to "Make the most of the situation and look on the bright side."
Dowd's athletic skills also make him stand out. Ten years from now, he sees himself paving his way to becoming a football coach, just like his father, who was once the head football coach for Charleston Southern University. "Not only does Sam strive to do well academically, but his attitude and work ethic are always exceptional as well," says Shaddrix. "Sam is involved in his church and volunteers with special needs students." If coaching doesn't work out, Dowd says he's also interested in becoming a teacher and working with Special Education students. "The thing I like most about high school would be the ability to connect with anyone, despite their background," says Dowd. "Everyone comes from a different life, so it's nice to get to know people and talk to them."
Football isn't the only activity Dowd specializes in. He also plays tennis; works at Planet Fitness; cooks; is involved in his church youth group, Awaken; and is a member of the West Ashley Video Game Club. This diversity of talent and interests might make some arrogant, but not Dowd. He remains humble and thankful. Above all, Dowd looks up to God the most. The quote he lives by comes from Psalm 16:8: "No matter what, God's there. He doesn't send anything you cannot handle," he says. "Don't doubt him, He's always there for you."
Because of the many influences in Dowd's life, he has been able to shine and positively impact others' lives. "Make every day count," Dowd advises others. "The harder you work, the more it pays off in the long run."