Student of the Month — Maryann Royster
West Ashley High sophomore balances school, sports, and hobbies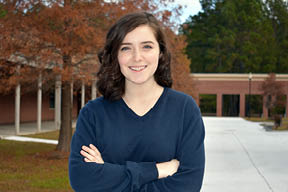 Photo By Sydney Cheatham
December 6, 2017
By Dean Rose | Contributing Writer
West Ashley High School sophomore Maryann Royster is a very impressive and inspirational person. She is dedicated to her studies as a student; she is a member of the WAHS Art Club, Volleyball Team, and Archery Team; and she still finds time to dedicate to her hobbies and projects.
The most recent project she worked on even won an award. "Maryann was the design leader for the James Island County Park (JICP) Festival of Lights Giant Greeting Card Contest," says West Ashley High Art teacher Shannon Hopkins. "She came to the original planning meeting for the Christmas Card Art Competition and showed her leadership skills by drawing on the board and helping lead the discussion with great ideas," says West Ashley High Spanish teacher Mollie Soto. "She spent countless hours drawing the original sketch, re-drawing it on the 4' X 8' plywood board, and even helped to paint and add 3D elements," says Hopkins. "We could not have accomplished so much without her." The card that Maryann and her peers worked on ended up winning an Honorable Mention and will be on display through the Holiday season at James Island County Park.
Attending West Ashley High and being around so many diverse people has helped and inspired Royster to continue pursuing her hobbies. She said her favorite part of high school is being able to see people mature and change. "Everyone becomes individuals in this part of their life," says Royster. The two hobbies that Royster has been able to pursue during her time at West Ashley High include painting and drawing. "Maryann is a stellar student in my Art 1 class approaching artistic problems with creativity, precision, and determination," says Hopkins. Royster was also chosen as the Artist of the Week for her contributions in and out of art class.
Royster believes one of her strengths is her creativity. "I'm able to think in a way not a lot of people think," says Royster. But her creativity comes with a penalty: She is hypercritical of her own work. She's a perfectionist who will change things in her work until she is completely happy with it. "I'm going to mess with it until I like it," Royster says. "She is very creative and detailed-oriented," says Soto.
Her teachers believe another of Royster's strengths is her ability to lead. "She is a natural leader," says Soto. "She is always positive and willing to help. I am so impressed with her maturity, creativity, and leadership!" Royster believes in the power of positivity. The motto she tries to live by comes from one of her favorite TV shows, "Once Upon a Time": "Believing in even the possibility of a happy ending is a very powerful thing."
Royster has also been inspired by her mother and her best friend. "They've helped me deal with lots of problems and they've just been there for me. Royster is not only inspired and influenced by her mom, she looks up to her as well. "My mom has dealt with a lot of things and remained level-headed and calm," she says.
Royster doesn't have all of her future planned out yet, but she does know that she wants to attend Clemson University, travel, have a dog, and inspire others. She wants to attend Clemson University because it is her parents' alma mater. She hopes to major in architecture so she can continue exploring her hobbies and put her artistic talent to the test.
As a bit of parting advice to her peers, Royster says, "Work hard, make good friendships, and don't be stupid."