Student of the Month: Haley Bauer
WAHS senior believes anything is possible as long as you work hard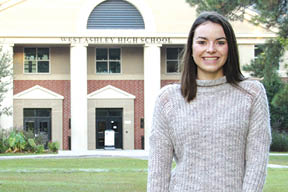 Photo By Sydney Cheatham
November 2, 2017
By Dean Rose | Contributing Writer
Haley Bauer is a senior at West Ashley High School where she is known for her admirable participation and leadership in multiple fields. "Haley is an outstanding student," says Wildcat P.R.E.S.S. Team Adviser Donnie Newton. "She is always polite, always on the ball, and always willing to do whatever needs to be done in order to do the job well, to finish it on time, and to do it to the best of her ability." As a member of the Wildcat P.R.E.S.S. Team, Bauer has seen many students selected as Student of the Month, so she was surprised to learn she was the one to earn the title this time. "I was shocked but excited; everyone else has always been it since I've been in this class, so it's kind of strange," says Bauer.
Bauer believes she was chosen as Student of the Month because of her hard work and because she always tries her best. "Haley has been an instrumental part of the Wildcat P.R.E.S.S. Team," says Newton. "The group would not be successful without hard working students like Haley on our team." She has many strengths that helped her earn this title like her leadership, dedication, work ethic, and commitment to getting the job done. "I'm really hardworking," says Bauer. "You can do anything you put your mind to, but it always comes with hard work."
Her work-ethic and leadership skills also helped her get elected as DECA president. This is her second year in the position, and she has accomplished a lot since taking office. Bauer considers one of her biggest achievements planning, organizing, and running the 3rd Annual WA5K Dash Thru the Den. "In the end we doubled participation and profit," says Bauer. One of the main goals of DECA is to help students understand the fundamentals of business and running a business organization. Bauer claims that the DECA Sponsor, Terry Stutts, has greatly influenced her. "He always tries to push his students to do better and he gives you real world experience," says Bauer. "He gives so much opportunity, you just have to take it."
Recognizing opportunities and capitalizing on them is one thing that Bauer takes very seriously. "There are just so many things you can do in high school that are beneficial to your future," says Bauer. That's part of the reason why she is so involved. In addition to being the DECA president and a member of the Wildcat P.R.E.S.S. Team, Bauer is a member of the National Honor Society, the Art Club, and Teacher Cadet. She is also a member of the West Ashley High Varsity Swim Team and she swims on a summer team as well. She even finds time outside of school and sports to dedicate to church; she is in her church's Praise Band. Bauer also likes to stay involved in her community by volunteering to do community service. During her free time, she enjoys baking, swimming, biking, and going to the gym, Orangetheory Fitness, where she likes to work out multiple times a week.
Having so much experience in so many different avenues has helped Bauer narrow her goals and focus for the future. She plans to major in business and minor in hospitality or entrepreneurship. She has also entertained the idea of becoming a teacher. No matter which path she takes for her future, she plans to one day own her own business. "It has been my pleasure, not only to work with her over the past three years, but simply to know her," says Newton. "More people would join the teaching profession if they knew they would interact with students like Haley Bauer."