Student of the Month: Guadalupe Chavez-Gutierrez
WAHS junior admires and aspires to be like her family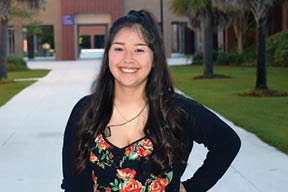 Photo By: Holli Pettis
October 4, 2017
By Dean Rose | Contributing Writer
Guadalupe Chavez-Gutierrez, also known as Lupe, has always been hardworking, responsible, and helpful when it comes to her academics. All of these qualities came in handy last year and again this year in her Yearbook class when the former editor had to leave. Chavez-Gutierrez stepped up to the plate. "I kinda took over as manager," says Chavez-Gutierrez. "Lupe was always attentive, driven, and cheerful; she worked diligently on her assignments and took the initiative to help her classmates so that they too would be successful," says English and Yearbook teacher Bridget Lee. "I am thrilled to have Lupe as our Editor-in-Chief this year."
When Chavez-Gutierrez learned she was selected as this month's Student of the Month, she was surprised and excited. "I feel honored because my brother was Student of the Month when he was here," says Chavez-Gutierrez. She felt honored for earning this title, but also honored that she was following in her brother's footsteps; she is very close with him and admires him very much. "I see how much stress he's under and how well he handles it," she says.
Chavez-Gutierrez has always been inspired by her family. Throughout her entire life, they've worked hard and influenced her, even in the simplest aspects like her music taste. At this moment, her favorite music is by the Red Hot Chili Peppers because of her uncle. "I love classic rock…it takes me back to when I was young and we were still close," says Chavez-Gutierrez. She also admires her relatives' hard work and work ethic, especially her aunt who lives in Miami. Chavez-Gutierrez's aunt started as a small time restaurant owner, but with hard work and determination, her business has grown to be one of the most popular restaurants in the area.
According to Lee, Chavez-Gutierrez is doing a great job of emulating her relatives' best characteristics. "Lupe, one of my all-time favorite students, is so deserving of recognition," says Lee. "She is a highly motivated self-starter with a quiet disposition and friendly demeanor." In addition to being a hard worker and self-starter, Chavez-Gutierrez can be counted on to perform well, even when the pressure is on. "I work well under stress and deadlines," says Chavez-Gutierrez.
In addition to being the Editor-in-Chief of Yearbook, Chavez-Gutierrez also holds a leadership role in DECA. "She juggles her [role as Editor-in-Chief for yearbook], her academic responsibilities, and her Vice President position in DECA with grace and ease," says Lee. "She is a role model to many and an excellent representative of WAHS."
Outside of school, Chavez-Gutierrez enjoys many forms of art like painting, photography, and learning new languages. In school, Chavez-Gutierrez loves meeting new people and all of her classes, especially math. "I love math," she says. "I'm naturally good at math, so it's easy for me, and [I like] the amazing teachers."
Chavez-Gutierrez plans to continue her education after she graduates from West Ashley High. She is considering three different colleges: New York University, Columbia University, and the University of Miami. She plans to pursue her dreams of working as a scout or in marketing for a soccer organization one day. After she accomplishes these goals and retires, Chavez-Gutierrez wants to own a bakery or café that caters specifically to business professionals. "Don't take anything for granted," says Chavez-Gutierrez. "If there's an opportunity in front of you, take it!"