Student of the Month — Brian Hawkins
WAHS junior exhibits hard work with courtesy, efficiency, and a smile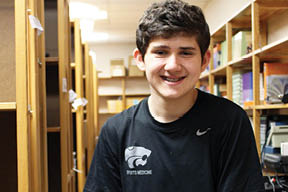 Photo By Isabella Wilkinson
March 8, 2017
By Haley Cutaia | Contributing Writer
Junior Brian Hawkins is well known around West Ashley High School for his proficient skills with computers and for being the school's Information Technology (IT) student intern. His talents require him to assist West Ashley High faculty and staff with a variety of technology issues. "He is a lifesaver for our faculty and staff—handling all our IT needs," says Career and Technology Education (CTE) Department Chair Sandra Pennekamp. "Brian does this with courtesy, efficiency, and a smile!"
Hawkins believes he was chosen as the Student of the Month because of the amount of help he is able to offer West Ashley High in the IT department. "I do as much as I can for the district so they don't have to come out." Hawkins prides himself on knowing how things work and strives to fix as many issues as possible without aid from anyone else. "He has saved the district countless man-hours by being able to respond to and solve technology issues on the spot," says Pennekamp. He does a great job, but he can't fix it all. "One of my weaknesses would be having to call the county," says Hawkins. "I want control over the school's issues."
Hawkins attributes his extensive technology knowledge in part to former West Ashley High IT student intern Stephen Maddy. It was Maddy who encouraged Hawkins to apply for the school IT apprenticeship and for the Charleston County School District (CCSD) summer IT internship program as well. Hawkins considers both internships among his greatest achievements; he was one of only three rising juniors in a summer internships. During the school year, Hawkins earns high school credits through the work-based learning program at the school; during the summer, he earned high school credits and an hourly wage, as it was a paid internship.
When he's not working on computers, Hawkins enjoys playing video games. "My favorite would have to be Counter-Strike: Global Offensive," he says. "It's really popular since it's now a TV show." Another of his favorite hobbies is watching YouTube videos. His favorite YouTuber is Roman Atwood, who motivates him immensely.
Because of Atwood's impact, Hawkins's motto is now "smile more," which happens to be Atwood's slogan. Hawkins tries his best to live by this motto and smile as much as possible. "Don't let the small things keep you down," says Hawkins. Though Atwood motivates him, Hawkins admits that he has the most admiration for his teacher, Sandra Pennekamp. "She's always there for me, watching out for me, and keeping me on task," Hawkins says.
Focusing on the future is of utmost importance to Hawkins. He claims that his favorite part of high school is having the freedom of choice. "Being able to choose your classes prepares you for your future," says Hawkins. He plans to participate in the bridge program offered through Trident Technical College so he can finish his engineering degree at Clemson University.
Hawkins says he has thought about the possibility of teaching IT at West Ashley High after he graduates college. "I'm experienced in the technology field, so I think it'd be efficient for it to be me." Hawkins says. "It would be good to have someone teach it who's actually done it." Whether it's at West Ashley High or not, Hawkins says he plans to have a good job in ten years. "I want a job making good money [and] a good position with a good company," he says.