Student of the Month — Alondra Quijano
Freshman Alondra Quijano Remains Positive No Matter What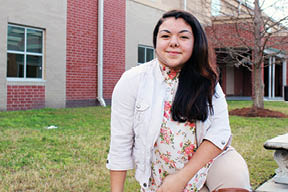 Photo By Isabella Wilkinson
February 16, 2017
By Haley Cutaia | Contributing Writer
Not many students are thrilled to be starting high school, but West Ashley High freshman Alondra Quijano is not one of those students. She stands apart from her peers in many ways, and that is why she is this month's Student of the Month. "Her nomination is more about her spirit," says Google Applications teacher Kandi Young. "She greets me each day with a beautiful smile, eye contact, and 'how are you today?' and she leaves each afternoon with that same spirit."
Quijano was surprised when her teacher announced to the class that she was selected as the Student of the Month. "I'm glad to be in this position," says Quijano. "I'm glad to represent West Ashley in a positive way." Quijano expressed pride and humility at being able to serve as an example for her peers, but mostly she felt an overwhelming sense of gratitude in knowing that her hard work in school truly does pay off. "When the teacher gives the option to use phones after we finish our work, I always choose not to," says Quijano. She spends this time reading or studying for upcoming tests or quizzes instead. Quijano's teachers notice her choices and how starkly they contrast the norm. "It is a refreshing, uplifting interaction each day and it makes my classroom a great place to be!" says Young.
When she's not working hard for her great grades, Quijano spends most of her free time dancing. Dancing is a major part of Quijano's life. In fact, her life motto is "Always dance through the rain." The motto comes from her favorite song, "Oceans" by United; the lyrics remind her of how she can get through the bad times if she just dances. "The rain is life, and dance reminds me that everything will be okay," says Quijano. "Even when there's problem on top of problem, dance tells me that everything happens for a reason."
Quijano even considers her biggest achievement to be dancing in the toughest of times. "Even when I was hurt or in a wheelchair, I still danced," she says. Quijano has suffered through a number of injuries including being in a wheelchair for almost a year and being on crutches twice. Part of her passion for dancing relates back to her dance leader. "She is such a great example for me," Quijano says. "Dancing is my life, and she taught me everything. She's amazing." They met seven years ago at Quijano's church back in Georgia. Quijano just moved to South Carolina this year, but that doesn't stop her from going to her church in Georgia; she takes a trip back about once a month.
Although Quijano admires her dance leader the most, she recognizes that her mother is also worthy of admiration. "She's always there for me," Quijano says. "She's my mom, and I love her." Her mother must have set quite an example for her daughter as Quijano has so many positive qualities.
One of her greatest qualities is that she always gives her best effort in whatever she is doing. "I love challenges," Quijano says. Her love for challenges originates from one of her favorite subjects, Math, where she loves teaser problems. Her other favorite subject is English, where she can experience her hobbies such as reading and writing. "I have a notebook that I write in," she shares. "It's fun." Her other hobbies include coloring, baking, shopping, and dancing of course.
Although she is only a freshman, Quijano knows what she wants in the future. "I just want to be happy," she says. "In ten years, I just want to live healthy and spend time with family, because it doesn't last forever." She also wants to be an occupational therapist. Quijano has had lots of experience with occupational therapists because of her injuries and she wants to be able to help people just like her occupational therapists helped her. "I want to like what I do," says Quijano. "I want a career, not a job."
For right now though, Quijano is happy to be learning from her teachers, and she plans to enjoy her time in high school. "In middle school, I was lost," she says. "But in high school, I know things because I remember when I learn. High school is so much better." Hopefully she will continue to keep her positive, bright spirit and continue dancing through the rain.