Striking The Right Note
WAHS Prepares to Honor Former Band Leader Eddie Shealy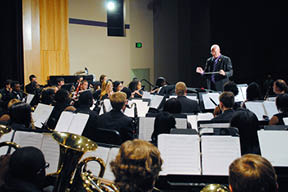 October 17, 2017
By Bill Davis | News Editorl
Only one thing will be missing from the celebration of former West Ashley High School band director Eddie Shealy's life and career this Friday at the school: Eddie Shealy.
It had been hoped that Shealy would be able to attend the ceremony, but he passed away earlier this month from liver cancer at age 58.
But he might be the only one not there. Already, Benedict College from Columbia will send its band.
As will the Fort Dorchester marching band, whom the Wildcats are playing that night in football, as well as bands from Hanahan High School and C.E. Williams Middle School, according to WAHS spokesman Donnie Newton.
Newton says his school has put out invites to all the school bands in the Charleston County School District, and will find out that perhaps even more will take the field in honor of Shealy.
Shealy had been directing bands in West Ashley going back to his days at the former Middleton High School, retiring from WAHS in 2014. Shealy stayed active in local school bands, continuing to pitch-in at WAHS and Hanahan.
Current WAHS bands director Stacey Coker had gotten to know Shealy over the last 15 years, even getting to work as one of his assistants a few years ago.
"Even when he was retired he was my 'go-to' guy when I needed to get something done," says Coker, who plans to have her band play an old Scottish hymn, as well as a tune by 19th Century composer and singer Phillip Bliss to honor her former mentor. "It was one of Eddie's favorites."
Benedict band director Wade Johnson says his band was originally supposed to come and perform at a WAHS pep rally earlier in the month. But he jumped at the chance to perform one more time for "Brother Shealy" who has sent him multiple players and students throughout the years.
Their relationship began more than 20 years ago when Johnson and Shealy were competitors, leading opposing high school marching bands in competitions around the state. Johnson says Shealy's sense of humor pervaded everything he did. "But don't get it wrong, Brother Shealy was a consummate professional, a perfectionist in every thing he did."
"We've lost a legend," says Johnson, who calls himself a "McClellanville bean-picker" who got off the farm thanks to music.
Johnson will be bringing an 110-person band with additional staffers and assistants. The WAHS band will join them at halftime for a song, with all 55 of its members.
Coker says she has been humbled by how "passionate" so many band and school alumni are to honor Shealy.
There had been a plan to rename the band's practice field for Shealy, but alumni have pushed to dedicate the band room, and perhaps even the school's massive auditorium in Shealy's name.
Newton says that issue was brought to the CCSD School Board recently, but it was tabled for later discussion.
Newton says the school will announce the final plans for this week's event when they become more and more solid. But he admits the final details have been a moving target since so many have wanted to honor Shealy.
The Fort Dorchester game will also serve as senior night for the team, so some accommodation for both events will be made.
This won't be the last time WAHS will honor Shealy, as Coker is also hard at work putting together a school-wide memorial event at the school in November. She says that ceremony will be "less somber" than what's planned for this Friday.
"It will be more in keeping with Eddie's personality," she says.
Whatever happens, it's obvious that the note Shealy struck in this community will carry and sustain.