Still Stylin'
Wrestling royalty Ric Flair visits West Ashley on Thursday, Dec. 7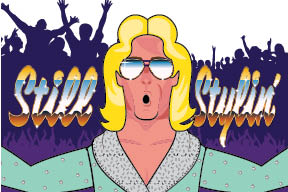 December 6, 2017
By Brian Smith | Art Director
Mention the name "Nature Boy Ric Flair" at a public gathering anywhere in West Ashley, and you'll be greeted with the legendary pro wrestler's signature cadence of "WOOOOO!" Since the early 1970s, Flair has been entertaining fans worldwide, but the Carolina luminary has never forgotten his roots. He makes a stop in West Ashley this Thursday, Dec. 7 for a meet-and-greet at Charleston Sports Pub, located at 1124 Sam Rittenberg Blvd.
Flair honed his craft in his native Minnesota, but moved to the Carolinas early in his career and has been captivating crowds ever since. Local rocker and West Ashley resident Colin DeBruhl remembers his first time experiencing the Nature Boy. "When I was a kid, we used to go to my grandma's house and watch old NWA wrestling on television," recalls DeBruhl, who plays in local bands Action City Blackout and Dante's Camaro and "I thought Flair was cool, but he was a bad guy."
A truly polarizing personality, Flair has always presented himself with flamboyant panache. Custom limousines, private jets, tailored suits, and ostentatious jewelry were all part of the character that Flair portrayed. DeBruhl, a life-long wrestling fan, has many fond memories of seeing the Nature Boy perform live. "In 1988, I saw Flair wrestle at Johnson Hagood Stadium. It was so awesome … he came to the ring in a helicopter!"
After retiring from full-time in-ring competition in 2008, the 16-time World Champion has kept busy with public appearances, including filming commercials, rap videos, voice-over work, and making sporadic appearance for the largest sports entertainment company in the world, the WWE.
"In the '80s and '90s, if you lived in the south especially, he was as big as any rock star, celebrity, athlete, etc," says Perry Freeman, owner/operator of the Charleston Sports Pub "You name it. It's not just his words, if you were a guy, you wanted to be Ric Flair. He was the Michael Jordan. The Prince. Joe Montana. You name it. I think for most, it takes you back to simpler times also. I remember being 10 years old siting around those old school TVs with my uncle and grandpa. It was good times."
A recent ESPN 30 for 30 documentary has reinvigorated interest in the Nature Boy, and paints an honest and engrossing portrait of both the man and the wrestling industry. These days, the Flair spotlight has shifted to his daughter Ashley, who performs with the WWE under the ring name "Charlotte" a nod to her hometown and the mecca of southern wrestling for many years. Charlotte is revolutionizing the role of women in wrestling, with her father being a staunch advocate for his progeny.
In addition to the 30 For 30 documentary, a recent health scare has brought Flair back in the public eye. "We are just happy that we can be a apart of this event," says Freeman. "He is an icon. We are excited to have him here and we hope this thing is as crazy of an event as he deserves."
Over the course of his 45-year career in the wrestling industry, Flair has visited Charleston with recurring frequency, but Charleston Sports Pub is offering a unique experience and rare access for fans.
The West Ashley sports bar often host athletes for signings and appearance, but it's mostly football players. When some people shared their interest in getting a WWF/WCW legend with Freeman, he and his Charleton Sports Pub team sprung into action. "I made some phone calls and pulled as many favors as I had in my pocket, plus some capital persuasion, and we made it happen," says Freeman.
The Nature Boys' appearance this Thursdays could prove to be the largest event to date for the Charleston Sports Pub's. Flair will be in attendance to take pictures and sign autographs as the parking lot will feature a live DJ, local vendors, and a can't-miss Ric Flair Costume Contest. The event commences at 6 p.m. and continues until 9 p.m. It's free to attend, but there are also $65 tickets that guarantee an autograph and photo with the Wrestling legend. There are also $100 VIP no-line tickets and reserved tables available for $500 (includes 6 VIP tickets).
Earlier this year, the Nature Boy suffered a serious health scare, but after medical rehabilitation and overwhelming support from his fans, Flair was able to mount a comeback comparable to his matches against "The American Dream" Dusty Rhodes decades ago. At 68, Flair's wrestling days are behind him, but with a new lease on life, he and his fans have a lot to look forward to.