Statehouse's Culture Of Coziness Doesn't Automatically Mean Corruption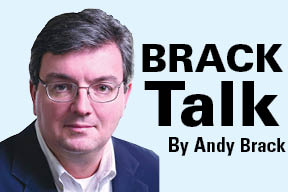 March 31, 2017
By Andy Brack | Contributing Writer
An ongoing ethics investigation at the Statehouse has elected officials twitchy, looking over their shoulders in attempts to figure out what's coming. For the second time in two dozen years, there's a dark pall looming over the legislature.
But if you think everybody who works on the Statehouse grounds is corrupt, you'd be wrong. Most are hard-working, good people trying to make a difference in a place where a culture of coziness can lead some to fall from grace.
Last year, the state Supreme Court gave authority to First Circuit Solicitor David Pascoe to continue a state grand jury investigation that started with the downfall of former House Speaker Bobby Harrell in 2014 over misuse of campaign funds.
By December 2016, the reinvigorated investigation led to the indictment of state Rep. Jim Merrill (R-Daniel Island) on 30 state ethics-related charges from using his office for financial gain to failing to report money properly received as a political communications consultant who works with a lot of politicians.
Last week, Pascoe's grand jury surprised veteran Statehouse observers by indicting longtime Republican Sen. John Courson of Columbia on three ethics charges related to payments over six years with an influential political consulting firm led by GOP kingpin Richard Quinn. He has advised some of the state's top Republican leaders from Gov. Henry McMaster on down for the last four decades.
Merrill, Courson, and Quinn have denied wrongdoing, according to several media reports. Meanwhile, investigators for Pascoe reportedly continue to collect documentation and records related to Quinn's business with the State Ports Authority, the University of South Carolina, Blue Cross Blue Shield of South Carolina and more.
Bottom line: The investigation shows no signs of stopping. It appears Pascoe and his team are methodically working to gather evidence while squeezing those snared so far to get more evidence, thereby making folks at the Statehouse understandably nervous. That's exactly what happened in the early 1990s when federal investigators indicted 17 lawmakers and 10 others in a votes-for-pay scandal that rocked the Statehouse. Then, like now, Statehouse business proceeded, but with people seeming to always look over their shoulders.
How, many wonder, can it be happening again at the South Carolina Statehouse?
The answer may be in our election system. Most, regardless of party, start out bright-eyed and bushy-tailed with aspirations of doing good and changing things for the better in South Carolina. Advised by friends, they soon figure out it's harder to run for office than it might seem. There are messages to craft, artwork to create, meetings to attend, hands to shake, voters to contact, doors to knock on, literature to be printed, commercials to be made and more. So they find a manager or consultant to help. Over months, and sometimes in intense settings, there's a growing bond of trust between the candidate and consultant.
When elected, the new official is surrounded by a new environment, the Statehouse, which has churned up legislation and people for generations. The official continues to turn to the consultant for advice and information. And the new official makes new friends among elected officials. They spend a lot of time together, particularly among people of the same party.
By its very nature, the Statehouse is a place that encourages this culture of coziness. Some would argue that such a clubby culture breeds corruption. But just like all married people don't have extra-marital affairs, all legislators don't stray from the ethical path. The vast majority serve with honor and shouldn't be tainted with suggestions of corruption.
So what can be done at the Statehouse to stop the embarrassing headlines about some elected officials? Not much, human nature being what it is.
What would help, though, is for state lawmakers to rely more on their own counsel than on consultants. It would help for them to be as accountable and transparent as possible, particularly with anything related to money. And it might help to continue to toughen ethics laws, particularly to ban so-called dark money to thwart people who don't want to be recognized for trying to influence campaigns and public policy.
Andy Brack is editor and publisher of Statehouse Report. Have a comment? Send to: feedback@statehousereport.com.