Special Elections Have Better News For Dems Than You Might Think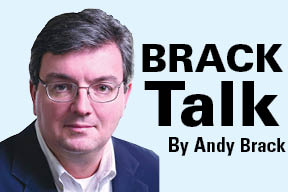 July 4, 2017
By Andy Brack | Contributing Writer
Boy, listening to the talking heads and sputtering pundits, you'd almost think the world was ending for Democrats after narrow losses in two special U.S. House elections in South Carolina and Georgia.
But the world's not ending.  In fact, Republicans should be a little worried.
Yes, the Democrats lost again.  But they lost in safe, strong GOP districts  – contests for which most people never thought Democrats could get so close.  In November, Tom Price won his Georgia House seat by 23 points over his challenger.  In South Carolina's 5th congressional district that includes Rock Hill and Sumter, Mick Mulvaney won by 20 points.  Both became part of President Trump's cabinet, which prompted the special elections.
Look now at Tuesday's paltry margins.  The GOP victor in Georgia won by just four points.  In South Carolina, former S.C. GOP Rep. Ralph Norman beat Democrat Archie Parnell by three points.
Simple math shows that Democrats got a swing of 19 points in Georgia and 17 points in South Carolina.
That's huge.  And it's something that Mr. Huge and his party are taking much more seriously than arrogant surrogates are parroting on television.
The Georgia election was the most expensive House race in history, a contest in which Democrats and Republicans pumped in more than $55 million.  On Tuesday, GOP candidate Karen Handel polled 52 percent of almost 260,000 votes, compared to 48 percent by newcomer Democrat Jon Ossoff.  Seven months earlier, Price got 10 percentage points more of a total of 311,328 votes.
In South Carolina, the special election was more typical and under the radar with far less money spent.  As such, only 90,000 voters headed to the polls, compared to 298,000 just seven months ago.
Back in 2010, Republicans recaptured control of the House due, in large part, to anger over the weak economy and President Barack Obama's Affordable Care Act.  Mulvaney benefited from the political climate and beat longtime Democratic incumbent John Spratt by 10 points.  Just four years earlier, Spratt beat Norman by 14 points.
Special elections like the ones on Tuesday tend to draw partisans.  Parnell's total suggests three things:
• His campaign may have done a better job of turning out the Democratic base;
• Lots of GOP voters stayed home (which is kind of a backhanded victory for Dems); and
• A portion of people switched from the GOP lever from last November to Parnell's on Tuesday.
Democrats are obviously frustrated because they came so close in South Carolina and Georgia.  But there are some lessons they can apply in 2018, particularly if the electorate remains volatile because of the Trump Administration and if Congress continues to flop around like a fish out of water.
Recruit good candidates.  Parnell and Ossoff were good candidates for Democrats. They had gravitas and crossover appeal.
Raise money.  Both candidates proved they could raise money.  Because the South Carolina election was under the radar screen, we'll never know whether an extra million dollars would have been enough to push Parnell over the line.
More vulnerable districts.   Both the Georgia and South Carolina districts were rated "strong Republican" prior to this week.  But if Democrats across the country have potential swings of 17 or 19 points in 2018, more Republicans are at risk than traditionally thought.  According to the Cook Political Report, there are 42 GOP seats now that are competitive and rated as likely Republican, leaning Republican or tossups.  This number could increase.
Change the leadership.  House Democratic Leader Nancy Pelosi is a lightning rod.  Every time Republicans smell a little trouble, they trot out nasty ads painting Pelosi as a devil.  And it works by inflaming their base.  Replacing Pelosi with younger, fresher leadership could erase hundreds of millions of dollars of negative branding that the GOP has spent demonizing Pelosi.  As one Democratic wag told us, "How many times do we have to watch then run the same plan and not learn how to stop it?"
Democrats have a path to retake the U.S. House.  All they have to do is flip 24 seats.  With more than 40 in play – and with the special elections as indicators that voters will shift – the next 16 months should be filled with action.
Andy Brack is editor and publisher of Statehouse Report.  Have a comment?  Send to:  feedback@statehousereport.com.