Souvenirs of Summer
Fabulon's Annual end of summer show on display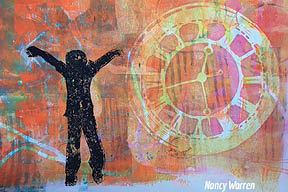 August 23, 2017
From Staff Reports
As summer swiftly comes to a close, Fabulon: Center for Art & Education  transitions to new schedules, rituals, and routines. For some it is a new beginning associated with starting school, but for others it is bittersweet evidence that children are growing up and venturing out. Perhaps your parents are in the autumn of their years? Often we are too busy to savor the fleeting moments. Or maybe we are acutely aware that this is the very moment we will miss.
This is why local artist and Fabulon owner Susan Irish  asked artists to share their representation of that concept and these queries: What conjures up a sense of nostalgia? What have you lost? What do you hold most dear? For what do you long?
Each year in late August, Fabulon artists regroup after vacation adventures to show recent work, commemorate the passage of time, and start off the new gallery season. This show pays homage to a different time when children were curious and played freely. There are documents of special places that have changed over time. Witness reminders of all that is precious and ephemeral.
The show is called Souvenirs of Summer and although it opened last week the an artists' reception will be held from 5-8 p.m. on Saturday, Aug. 26 at the gallery, located at 1017 Wappoo Road. The exhibit will be on display through Oct. 8.
This year's Souvenirs of Summer features more than 25 artists, including some new Fabulon artists, local friends, and new acquaintances from across the nation.
Fabulon is located at 1017 Wappoo Road. For more  information, call  566-3383 or visit www.fabulonart.com