Southern Rock Revival
Chris Hicks of MarshalL Tucker Band returns to play RPub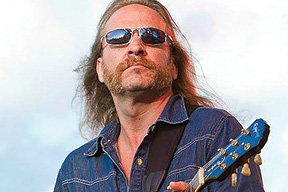 Chris Hicks plays Friday, Feb. 9 at RPub, located at 1836 Ashley River Road. For more information call 556-1975
February 8, 2018
From Staff Reports
Fans of Southern Rock should know the name Chis "The Hitman" Hicks. He has played with some of the biggest names in the genre and played some of the biggest stages in the country. Making it that much more special to see this guitar phenom in an intimate setting next week when he returns to play a show at RPub in West Ashley on Friday, Feb. 16.
Hicks has been playing his own style of Southern rock 'n' roll since he was young. He's had the opportunity to play as a member of both Southern Rock legends The Outlaws and is currently a member of The Marshall Tucker Band.
A bluesy Southern rock guitarist with soulful vocals to match, the Georgia native honed his skills playing lead guitar for the likes of Gregg Allman, Lynyrd Skynyrd, among others. Inspired by Otis Redding and James Brown, Hicks grew up in the Macon area and joined the band The Experience. After playing the blues festival circuit for several years, the band opened up for Steppenwolf and Charlie Daniels during the 1980s, and Hicks was asked to join the popular Southern rock band The Outlaws later that decade.
During that time Hicks had also become well-acquainted with the Marshall Tucker Band when his previous band Loose Change opened for them on tour. When MTB lead guitarist and founder Toy Caldwell died in 1993 the band went through several changes.
When The Outlaws disbanded in 1996 Hicks joined the evolving lineup of the Marshall Tucker Band, serving as the group's lead guitarist while simultaneously launching a solo career with his 1998 solo debut album Funky Broadway. Hicks stayed with the Marshall Tucker Band throughout the decade, and in 2008 he released his second solo effort, Dog Eat World.
He rejoined The Marshall Tucker Band in 2012 and tours with them, while also playing solo gigs. But it's not often you get a chance to see someone of Hick's abilities in this small venue like RPub. Every time he plays the West Ashley bar, he packs the house, so don't miss out this time around.