South Carolina Needs to Find Environmental Courage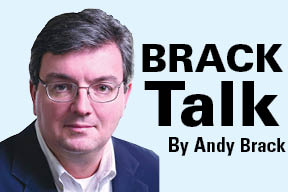 June 15, 2017
By Andy Brack | Contributing Writer
With so much that could be done to protect South Carolina's special places and put the state on a stronger, more renewable energy footing, you may sometimes wonder whether we just have too many environmental cowards.
Maybe that's a bit harsh, but look at some recent stories that show that technology exists to transform how we power our economy from the traditional dirty oil and coal to a blend of renewables plus nuclear power with natural gas as a backup for peak usage.
Across the world, there are more than 2 million electric cars on the road. China, which is the largest electric vehicle market, has 200 million electric two-wheelers and 300,000 electric buses, according to the International Energy Agency.
In the United States, wind power is booming in a bunch of red states. Iowa now generates 37 percent of its power from wind, while Kansas gets 31 percent of its power from wind, according to the Energy Information Administration.
Solar power is on the rise. Our neighbor to the north, North Carolina, is ranked the second top solar state, in part because of how it incentivizes the business community to set up solar farms. According to the Solar Energy Industries Association, the Tarheel State generated more than 3,000 megawatts of solar power in 2016 – enough to run 341,000 homes.
But in South Carolina, what do we do? We continue an addiction to gas with cheap prices. Too many state lawmakers back efforts to allow oil and gas exploration off of our coast, seemingly oblivious to the Deepwater Horizon tragedy in the Gulf from seven years ago that caused the air in Mobile Bay to smell like gas for weeks.
We're slow on moving forward with offshore wind, although pilot projects are taking forever when it is pretty clear that the offshore wind resources along Georgia and the Carolinas could power millions of homes, as wind is doing in the Great Plains states. And with solar?  A few state legislators, patsies for big power companies, are blocking efforts to allow solar businesses to establish 100 solar farms across the state much like has been done in North Carolina.
There are some bright spots. State senators saved the Conservation Bank in the recent budget, allowing the state to continue to protect land. Three mayors – John Tecklenburg in Charleston, Steve Benjamin in Columbia and Terence Roberts of Anderson – are taking a stance to "adopt, honor and uphold the commitments to the goals enshrined in the Paris [climate] Agreement." Tecklenburg and other coastal mayors also are fighting offshore drilling.
John Tynan, head of the Conservation Voters of South Carolina, says promoting clean energy and environmental stewardship is something that should be bipartisan.
"State and local governments pass 75 times more legislation than Congress," he told Statehouse Report.
That being said, state and local governments are the perfect place to forge new ground in the clean energy sector and pass meaningful clean energy legislation that creates jobs, reduces energy costs and contributes to a clean environment.
"At the local level — especially in nonpartisan municipalities — we can get partisan politics out of the way and see local leaders respond to calls for clean energy from both voters and businesses in their communities. In the state legislature, we see bipartisan support for solar and wind legislation and efforts to protect our state from offshore drilling."
Dana Beach, executive director of the S.C. Coastal Conservation League, says the state can bolster its commitment to cleaner energy and a better environment by giving more than lip service to alternative, intermodal transportation. In metro areas, it can dive in with more bus rapid transit, light rail and intercity rail. It can evaluate, fund and adopt measures to deal with sea level rise. And it can get people to be more efficient in their energy use and accelerate renewables.
"We've come a long way on this, but can do more, especially with solar and wind," he said.
But we've got a long way to go. Rather than get left behind (again), South Carolina lawmakers and local governments need to take the plunge and actively pursue energy alternatives that can get us off oil and more into renewables.
Andy Brack is editor and publisher of Statehouse Report.  Have a comment?
Send to:  feedback@statehousereport.com.