Something is in The Air
In The Air ~ 2, featuring the works of Lynne Riding opens at Avondale Therapy June 3, reception held June 10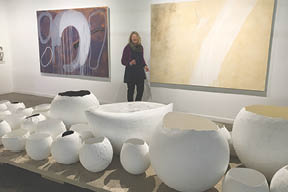 June 7, 2017
From Staff Reports
The Gallery at Avondale Therapy announces the opening of new exhibit this week, featuring new works by local visual artist Lynne Riding. The exhibit entitled In the Air~2 officially opens this Saturday, June 3 and will run through Aug. 30. An artist reception will be held 5-8 p.m. on Saturday, June 10 at Avondale Therapy, located at 815 Savannah Hwy.
Riding is a visual artist living and working in Charleston. She received an MFA in Painting from the San Francisco Art Institute, a BFA in Fashion and Textiles from Manchester College of Art, UK and a two-year Art Foundation from Hereford School of Art & Design, UK.
A childhood spent in Mid Wales instilled in her a love of landscape and certain awe for the power and fluctuations of the elements. As an inveterate traveler of both land and sea, she draws on these experiences in her work. Many of the physical and mental experiences from her past sailing and competitive windsurfing experiences, together with memories of hiking in the hills of home, to current daily walking, find their way into her work.
Initially a representational artist, her work was originally concerned with both the landscape and the figure, the two combining at times. During 2002 Riding's work took a turn, this due to the wish to instill more inner depth and felt meaning to each piece, and so, her focus turned to abstraction. In addition to practicing as a professional artist, Riding has been an art educator at university level, currently serving as a faculty member at the Art institute of Charleston.
In addition to South Carolina, Riding has exhibited extensively throughout the country in California, Florida, New Mexico, Arizona, and Oklahoma. Highlights include invitational exhibits such as: "Abstract Art in SC, 1949-2012", State Museum, Columbia, SC. "30th Parallel- a Convergence of Contemporary Painting", 2005, JMOMA, Jacksonville, Fla., and "CYMK", 2005, Trans America Pyramid, San Francisco.