Smoke on the Windermere
Black Wood Smokehouse opens in former Med Bistro space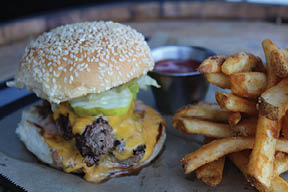 August 23, 2017
By Rachel Castejón | Contributing Writer
Earlier this year it was announced that Wild Hare Smokehouse would be opening in the space formerly occupied by longtime West Ashley restaurant Med Bistro (a.k.a. The Med Eatery & Bar). But when the plans fell apart for Wild Hare, their chef, who was now out of a job, took matters into his own hands and quickly acquired the lease.
As a bus boy at the Med Deli in the '90s, Chef Joseph Jacobson has come full circle. The newly opened Black Wood Smokehouse is located in the very building where his culinary trajectory began and in the neighborhood where he grew up.
Jacobson first made a name for himself in town as the chef de cuisine at Oak steakhouse downtown before taking over the kitchen at the company's sister restaurant The Oak Table in Columbia. He returned to Charleston and became the head chef at Sweeney's on Johns Island.
But now Jacobson is fulfilling his dream of owning his own establishment and doing what he loves — smoking meats. Setting himself apart from traditional BBQ restaurants by using as many fresh, local ingredients as possible, Jacobson hopes to secure his spot in what he considers an over-saturated market.
Jacobson mentions that the multitude of dining establishments in Charleston — and not just BBQ — would keep any chef/owner on his or her toes. With so many culinary experiences available to the public, he strives to stand out by letting his food speak for itself. His "fresher, cleaner take" on the traditional BBQ restaurant has the potential to revitalize the typically "heavy and gluttonous" meals one normally encounters at these establishments. But, he also makes it clear that if you want to eat your weight in smoked meats and roll out the door that, too, is possible.
Carolina Heritage pork, Geechie Boy grits, and homegrown produce all shine on the Black Wood Smokehouse menu, and you can clearly see Jacobson's passion for smoking in the dish choices, from traditional BBQ standards like pulled pork and chicken to crispy smoked sc quail to prime house-smoked pastrami.
But it is the whole, fresh fish for which Jacobson waxes poetic. He loves to get his hands on the product, breaking it down from large marine animal to individual portions, checking the eyes and gills for signs of freshness. As far as traditional BBQ alternatives go, Jacobson plans to bring in oysters and shrimp when they are in season.
Jacobson has a strong desire to see his childhood stomping grounds come back to life with upscale food at an affordable price, starting with the smokehouse. He knows this is not possible without his wife Allison's input. He credits her with running the whole show, behind the scenes.
"Without her I don't have shoes to put on in the morning," says Jacobson. With a trusted partner in Allison, expertly smoked local products, fresh goodies straight from the sea, and an accessible upscale menu, Black Wood Smokehouse is set to bring back the old restaurant space and hopefully do what many Charleston spots are unable to do — stick around for a while.
Blackwood Smokehouse is located at 90 Folly Road. For more information call 789-3722 or visit www.blackwoodsmokehouse.com.