Sharing Her Legacy
Works by famed artist Alice Ravenel Huger Smith on display at Middleton PLace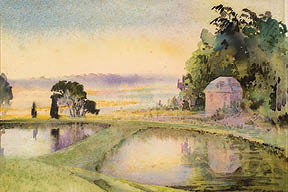 Mill Pond and Butterfly Lake (Watercolor on Paper) By Alice Ravenel Huger Smith, 1926
October 27, 2017
From Staff Reports
Charleston painter Alice Ravenel Huger Smith was a revered watercolorist and was a key member of a group of local writers and artists that spearheaded a dramatic cultural renewal in the 1920s and 1930s, now known as the Charleston Renaissance. She's best known for her paintings that depict the natural beauty and historical significance of the South Carolina Lowcountry. She was also an author, illustrator, printmaker, teacher, and historian.
A special exhibit of Smith's work is currently on display as part of an exhibit at the House Museum at Middleton Place in West Ashley. There are also works at the Edmondston-Alston House, located downtown. This special exhibit, entitled Sharing Her Legacy, brings together, for the first time, landscapes, family portraits, and sketch books from private family collections of her art and poetry, and provides a unique perspective on her life and work. This is the first time these pieces have all been exhibited together. The exhibit will be on display through Sunday, Oct. 29 and is free with general admission to the Middleton Place House Museum.
Born in Charleston in 1876, Smith was part of one of the most prominent families in the area. Her parents were Caroline (Ravenel) Smith and Daniel Elliott Smith.
Smith began her career as a portrait artist, copying old family images and painting friends and relations. During this time she also painted fans and dance cards. In 1910 she began experimenting with woodblock printing and etching, seeing limited success in the latter field but much in the former due to her sense of color.
After experimenting with oil paints and printmaking, Smith eventually settled on watercolor as her preferred medium, in which she would work for the rest of her life. Smith was also deeply involved in Charleston's artistic community. A founding member of the Charleston Etcher's Club and the Southern States Art League, she was also involved in the Historic Charleston Foundation, Carolina Art Association, and the Music and Poetry Society.
Unlike many of her fellow South Carolina artists, Smith preferred the rural landscape of the Carolina Lowcountry to urban scenes of Charleston when searching for subjects. She was also interested in recording vanishing ways of life. Her best-known work is the series of 29 watercolors she painted to illustrate A Carolina Rice Plantation of the 1950s. Many of her mature watercolors depict scenes from rural salt marshes.
Early in her career she also illustrated a volume by her father, D. E. H. Smith, a historian; titled The Dwelling Houses of Charleston, it was published in 1917 and sparked the historical preservation movement in the city. She illustrated another of her father's books as well, and contributed illustrations to several other volumes about South Carolina throughout her career.